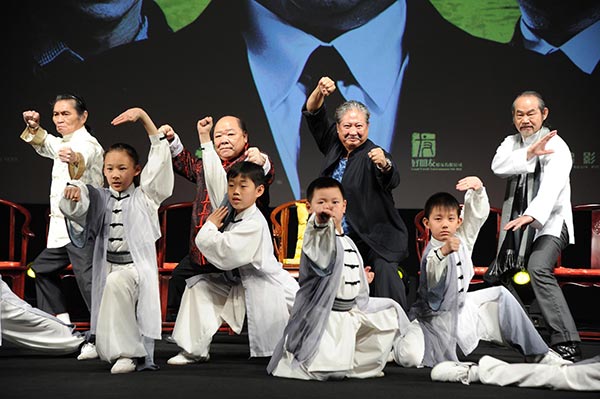 Sammo Hung (second from right, behind) at the premiere. [Photo provided to China Daily]
Two new Chinese releases,
The Bodyguard
and
Chongqing Hotpot
, and a still strong
Zootopia
this weekend dashed expectations that
Batman v Superman: Dawn of Justice
would score big at China's box office this year.
Batman v Superman ranked third in China's box office charts this past weekend, raking in 81.8 million yuan ($12.6 million) and leading the race slightly ahead of Disney's Zootopia at 81.4 million yuan ($12.5 million).
This is a massive 78% drop from Batman v Superman's opening weekend. Nevertheless, the superheroes film has accumulated 560 million yuan ($86.2 million) in earnings.
New stars at the box office are two domestic productions. Kung fu film The Bodyguard, directed by veteran martial artist Sammo Hung and starring Hung himself and actor Andy Lau, debuted at the top spot with 164 million yuan. Dark comedy Chongqing Hotpot followed in second place with 138 million yuan in ticket sales in three days.
Another domestic film, Who Sleeps My Bro, opened in third place on Friday but failed to shine over the weekend. It earned merely 67.5 million yuan in sales and took fifth place.
Disney's latest installation, Zootopia, which has performed well and has boasted stellar reviews since its opening, had a smooth and steady performance over the past weekend. Seventeen days after opening, the film has smashed the record for best selling animated film in China, with earnings of 1.43 billion yuan ($219 million).
Related:
Kung fu thriller The Bodyguard hits screens