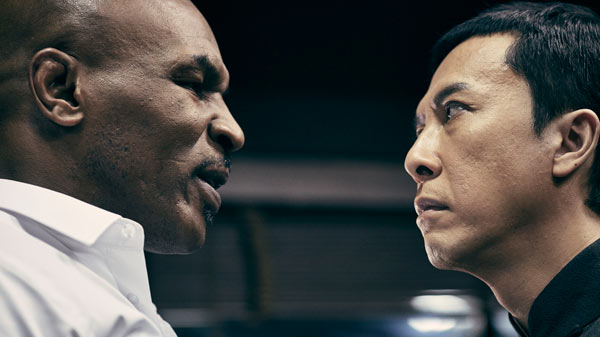 Mike Tyson and Donnie Yen star in Ip Man 3, whose distributor has been punished for ticket sale manipulation. Provided to China Daily
The country's film authority has reiterated its determination to crack down on cheating after some box office records in China's booming movie market came into question following a recent scam.
China's movie industry has generally developed in a "healthy, regulated" way in recent years, although there have been some cases of cheating, and the government will punish any such fraud, said Luan Guozhi, deputy head of the movie bureau of the State Administration of Press, Publication, Radio, Film and Television.
The country's top movie regulator improved the digital system used for collecting China's box office receipts last year, and the statistics are "scientific and accurate", Luan said on Wednesday at a media event to promote the forthcoming Beijing International Film Festival.
The nation's box office receipts reached a record-high 14.47 billion yuan ($2.23 billion) in the first quarter of this year, up 51 percent over the same period last year.
Meanwhile, the distributor of the martial arts film Ip Man 3, starring Donnie Yen and Mike Tyson, has been punished after the film authority office that manages the movie market launched an investigation in March following what industry watchers considered to be baffling ticket sales.
Some purported screenings of Ip Man 3 sold out at unpopular times, such as in the morning and at midnight, when cinemas reportedly were virtually empty, the business magazine Caijing reported. Additionally, tickets were mostly sold at nearly five times the regular movie ticket prices.
Investigators said on March 18 that more than 7,600 screenings of the movie, grossing a box office tally of 32 million yuan, were fabricated, while 56 million yuan worth of tickets were purchased by the movie's financers.
The film authority suspended operations of the movie's distribution company, Max Screen of Beijing, for one month, and it warned 73 cinemas and three online ticket-selling websites that were involved with the scam.
Some industry watchers said the case was different from most such cases, in which figures are falsified to attract investors for future movies. In this case, according to media reports, the numbers were manipulated to raise the stock price of the financing companies, according to media reports.