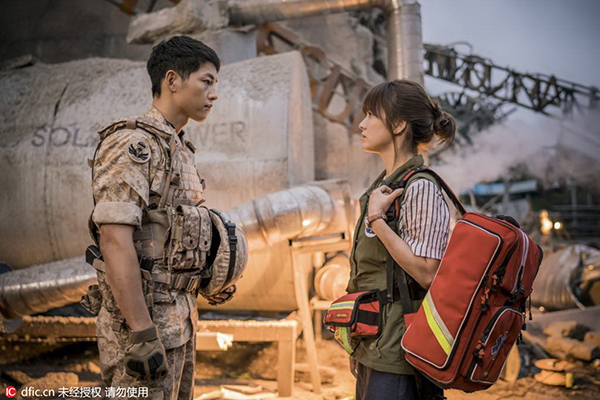 A still of Korean drama "Descendants of the Sun". [Photo/IC]
While Chinese people have started recognizing the value of soft power in expanding national interests, our neighbor to east, South Korea, has been using its TV plays to further its image for quite some time now.
With the Descendants of the Sun, a new South Korean series on KBS2, being a big hit with TV viewers on the Chinese mainland, people cannot but ask: Why cannot China, a country with a much larger audience, make such popular TV dramas? What's wrong with China's film and television plays and directors?
Some people attribute the popularity of South Korean TV series to their love-oriented stories, overflowing aestheticism, and romantic, sympathetic and suspenseful scenarios that seem to fit in with young women's fantasies. The pleasing personalities of the male and female protagonists, their vivaciousness, as well as the zigzagging plots and marvelous music, which meet young viewers' psychological demands, are also believed to be strong points of South Korean TV dramas.
But all these seem superficial factors if we believe some scholars who say the success of South Korean plays essentially stems from the success of the country's cultural policy and its cultural business model which consider the success of the performing arts sector only as a subordinate factor.
In my view, South Korean TV dramas have been successful because they benefit from the positive image of the country and its eagerness to integrate itself with the outside world. After all, a country's film and TV productions should be analyzed in the context of its broader national image.
According to Simon Anholt, a national brand expert, a country's reputation can be neither forged nor changed through communication. He says the national image can be lifted 80 percent by creative work, 15 percent with systematic coordination, and only 5 percent through communication.