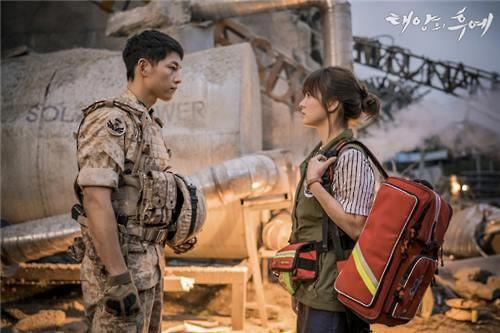 A still from South Korean TV series Descendants of the Sun. [File photo]
South Korean TV series
Descendants of the Sun
starring Song Joong-ki and Song Hye-kyo has sold licenses to 27 countries, including those in Europe and the Middle East, in an attempt to spread the popularity of the series which has been aired simultaneously both in South Korea and China.
The synchronized broadcast in both countries, including the first eight episodes, has triggered huge enthusiasm and gained a wide audience generating a handsome rating to help the producers occupy the upper hand in their plan to sell the TV series to an increasing number of recipients.
With the support from an immense number of fans, the subtitles of the dramas have been translated into more than 30 languages by online volunteers.
According to Viki, a US based video site which purchased the broadcast rights of the drama, the ratings for the TV series have topped others on the website's ranking list and created a huge gap between first and second place. The video website is preparing to increase the translation of the subtitles for a wider spectrum of audiences.
Related: