Tipple talk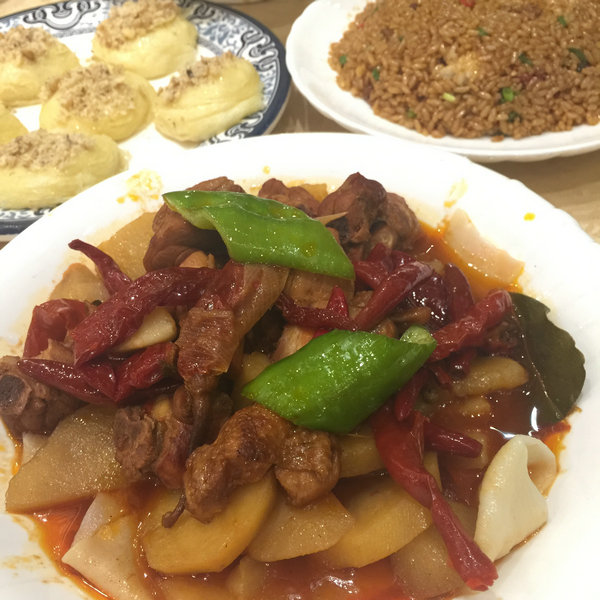 Wines highlight a Beijing feast
Some Chinese winemakers have picked up on a promotion idea popular with their Western peers: Hosting wine dinners to pair their vintages with food at top restaurants. Sommelier Ashley Gao at the Conrad Beijing elevated that idea last week by organizing a dinner with several Chinese wineries at the hotel's elegant Chinese restaurant Lu Yu. Chef Simon Leung made the most of it: The highlight of the menu may have come early, when he matched a steamed prawn with Ningxia wolfberry and a deep-fried prawn in light wasabi sauce with a dry 2014 riesling from Kanaan winery in Ningxia. Gao noted that the parallel levels of acidity in the food and wine - and Ningxia ingredients in both - made the combination work.
About 20 people enjoyed pairings with nine wines from Xinjiang (1421), Ningxia (Kanaan, Chateau September), Hebei (Chateau Nubes), Inner Mongolia (Hansen) and Shanxi (Grace).
Chateau Nubes's reserve cabernet sauvignon (2010) and Chateau September's 2011 blend were pleasant surprises, and the appealing mix was a fresh sign that Chinese wineries are coming up in the world. Gao noted that China's grape-wine traditions go back to ancient times, thanks to a very important fan: Emperor Wu of the Han Dynasty (206 BC-AD 220), but that wars and other turmoil in China have interrupted wine-making over the centuries.
The final four reds were fun to taste against one another with Leung's last two courses, roasted lamb with rosemary and stir-fried diced beef with green peas and black-pepper sauce.
Grin and bear it for great grapes
Having seen and read much about the high-tech world of vineyards and winemaking, it was kind of fun last week to meet a top Napa Valley vintner who depends (a little) on signs from Mother Nature for guidance.
"When the bears come out of the mountains and start eating the merlot grapes, that's when we go out to pick them," says Bruce Cakebread, president of Cakebread Cellars. (There's a reason for that besides acceptable ripeness: They want to get some grapes before the bears eat them all.)
The Californian was in Beijing for a wine dinner at Morton's steakhouse, where chef Peter Yu prepared a chilled seafood platter, grilled lamb chops, and a center-cut filet mignon to match with a series of Cakebread wines. (It was hard to say whether the uber-tender filet or the limited-edition Dancing Bear Ranch 2012 from Cakebread that was served with it was a bigger hit.) The next morning, Cakebread was on a 5:30 am flight, off to Guangdong to continue his annual spring swing through China.
Vineyard acquisition in Bordeaux
Guillaume Brochard, co-founder of Qeelin luxury jewelry brand, announced this month that he has acquired GRM, a Bordeaux wine producer and dealer, together with two French and two Chinese entrepreneurs and friends. That follows the 2011 purchase of Chateau Monlot by Chinese movie star Zhao Wei and her husband, and this year's purchase of Chateau de Sours by Alibaba chairman Jack Ma. The acquisition of the Bordeaux negociant GRM seems to indicate Bordeaux wines' continuing popularity among Chinese wine enthusiasts.
Founded in 1972, GRM is a wine producer and dealer that focuses on the Bordeaux and southwest regions, with its headquarters located in Pineuilh. According to Brochard, besides bottling facilities and a trading company, GRM now owns four wineries: Chateau Picon (AOC Bordeaux Superieur), Chateau Guillaume Blanc (AOC Bordeaux Superieur), Chateau Grandefont (AOC Bordeaux) and Chateau Les Roques (Cotes de Duras). The company includes both wines produced in its own wineries, and wines from other producers in the Bordeaux region, such as Be Pink and Rose on Ice. Brochard notes that most of GRM's 15 million bottles of wine were sold in France last year, but this year the company will push sales efforts around the world, and in particular in China.