Romancing the wild west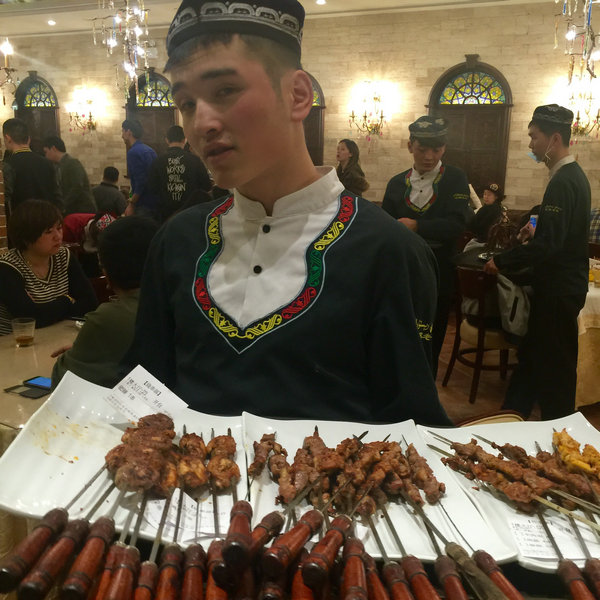 A server presents skewers of lamb and beef at Bayi Laoye, a Uygur restaurant in Beijing.[Photo by Mike Peters/ China Daily]
Bayi Laoye presents classic Xinjiang fare in glittering surroundings, Mike Peters reports.
Some of the most talked-about Xinjiang restaurants in Beijing are, well, kind of hole-in-the-wall places.
Everybody has a favorite, usually one where a migrant family works long hours to dish out savory lamb kebabs, pilaf and intriguingly scented tea. The food is cheap and delicious, the interior is colorful, fun but maybe a bit shabby, and if there's a toilet on the premises, it's best ignored unless nature's call is an emergency. Bigger establishments may have belly dancing at night.
And then there's Bayi Laoye (Baron Rozi), brightly lit and sparkling clean, a restaurant chain that has enough jewel-toned chandeliers to please Elton John, while a long, mural-like ceiling makes diners feel like they are being served in a palace. Imagine a Bellagio that serves Uygur fare instead of upscale Taipei plates - add burnished copper teapots and lots of stained glass, and you have Bayi Laoye. The chain has several locations in the capital, including the brand-new one near Dongzhimen.
While the marble-arched entry to the dining room may hint that your bill will be inflated to cover this finery, don't worry: The menu's modest prices are the next surprise. Portions are generous, with plenty of meat, and a flavor range from spicy devil to sticky angelic sweetness. We loaded a table for two with dishes, packed enough to take home for another big meal, and paid about 260 yuan ($39).
Start with the obligatory bowl of yoghurt, soupy and sweet-tart in the Central Asian style, studded with fat Xinjiang raisins. Rich honey lurks on the bottom of the bowl, waiting for a good stirring. Get a few good slurps right away, but save some to cool down some peppery bites to come.
For us, those came almost right away, with a starter of spicy chicken and vegetables billed as a house specialty. A light and savory pumpkin soup, which got a little body from a cloud of millet, gave us a break from the heat. So did a platter of cone-shaped steamed buns, slightly sweet with a topping of chopped nuts. The dough was light and pulled apart a bit like puff pastry, though the mouthfeel was typical steamed bun.
The next course, several skewers of chuan'r (kebab), were a mild disappointment. Meaty, flavorful, tender - full marks on those counts, but the meat wasn't quite hot on two separate orders. It was a super-busy Saturday night and the wait staff was flying from kitchen to table and back all night, but lukewarm chunks of meat inevitably take some luster off an otherwise terrific meal. The top-of-the-line skewers (16 yuan each) are roasted over rosewood for an especially rich flavor.
You may know that the Chinese government is eager to get the country's diner's excited about potatoes. The Xinjiang Uygur autonomous region is way ahead of the rest of us there: Potatoes abound in hot and cold dishes, slivered in spicy salads or served chunky in the sort of sweet goo that movie theaters use to make caramel corn.