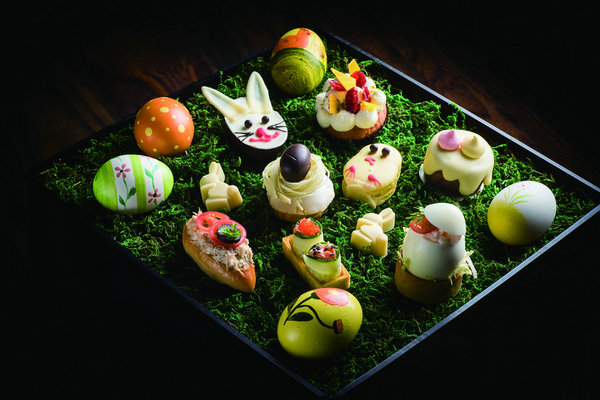 Ready for Easter at Conrad Beijing.[Photo provided to China Daily]
On restaurant tables around China, there is a new freshness awaiting diners whether their tastes look to the East or to the West, Mike Peters and Xu Junqian report.
The first warm breezes of the season stir thoughts of romance, of a new wardrobe and of food markets brimming with the earliest strawberries, asparagus, spring onions and tender lamb. China's restaurants and hotels get especially creative at this time of the year-many with special menus for Easter Sunday this weekend-and we've explored a number of their offerings. Anybody's favorite restaurant is likely well worth a look soon, too.
SHANGHAI
Name that toon
If people living on the south and north banks of Yangtze River could reach one agreement on food, it might be the tradition to eat Chinese toon sprout in spring. Chef Du Caiqing at Xindalu Chinese Kitchen restaurant is celebrating the season by having it shredded and blanched with tofu. The distinctive aroma of the leaves is something like durian-you either become addicted to it or sniff unhappily at it. Those who love it should try the hot dish-omelet made with toon sprouts and shrimps. It's the Chinese equivalent of the French scrambled eggs with truffles, where the heady flavor of the vegetable works best with such simple ingredient as eggs.
Xindalu, Hyatt on the Bund, 199 Huangpu Road, Hongkou district; 021-6393-1234, Ext 6318.
Seawater duck
The duck knows first when the spring sneaks up under water, as a Chinese poem goes. On dining tables at The Cook, the duck might also be a pioneer in forecasting the season. Using seawater ducks from Hainan province, chef Otto Goh defines the flavor of spring with a pure, simple bowl of duck soup that is seasoned with nothing but salt. Raised on the beaches of Hainan island, the seawater ducks grow with a diet of seafood such as small fishes instead of grains, which gives them a distinctively natural and less greasy taste.
The Cook, Kerry Hotel Pudong, Shanghai, 1388 Huamu Road, Pudong district; 021-6169-8888.