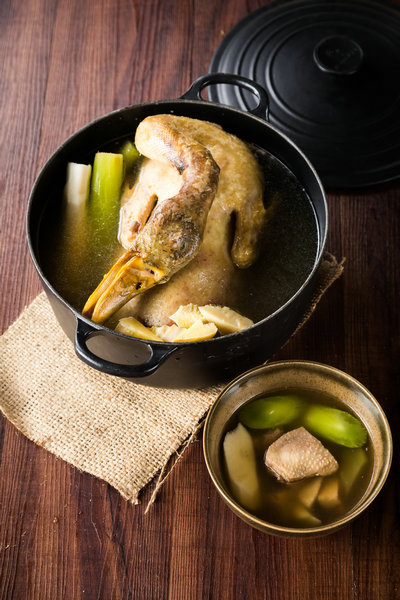 Seawater duck at The Cook.[Photo provided to China Daily]
Steakhouse with flair
Potato espuma with sweet-potato Kashmir-curry ice cream? This hot-and-cold sensation alone was enough to keep us coming back to Grill 79's updated Sky Brunch menu for spring. But we found much more to love, including a pitch-perfect Caesar salad, foie gras with "broken eggs" (scrambled), and New Zealand lamb rack with mesclun greens. The creme Catalan dessert is a reminder that there's a Spanish chef in the kitchen. Thanks to a magnificently clear day on a recent weekend, we could enjoy the ambience of dining between one of the city's best wine cellars and a panoramic view of Beijing from our 79th-floor perch. Choose four courses for 388 yuan; add 188 for free-flow champagne.
79/F, China World Summit Wing, 1 Jianguomenwai Dajie, China World Trade Center Phase 3, Chaoyang district; 010-6505-2299.
Brunch with a good squirt
The folks at Migas say they've redone the weekend brunch menu because they get bored doing the same stuff all the time. The good news: They have an apparently bottomless recipe file to work with. New items include deep-fried chicken strips with aioli for dipping, lots of tapas, and pintxos (Basque for "spike), which are pieces of skewered bread with all kinds of savory toppings, spread the length of the bar for your browsing. Main courses include paella and grill meat of the day-lamb chops last weekend (happy sigh). Two things make a midday stop here especially fun: First, forget the cutlery and eat with your hands-messy but satisfying. Second, watch for the porron. This is a cross between a wine decanter and a watering can, and the staff will circulate to literally squirt wine into your mouth while your table companions count how many seconds you can drink without gasping for air. Food is 268 yuan per person; add 138 yuan for two-hour free-flow drink package.
Migas, 6/F, Nali Patio, 81 Sanlitun Lu, Chaoyang district; 010-5208-6061.