Right time for fish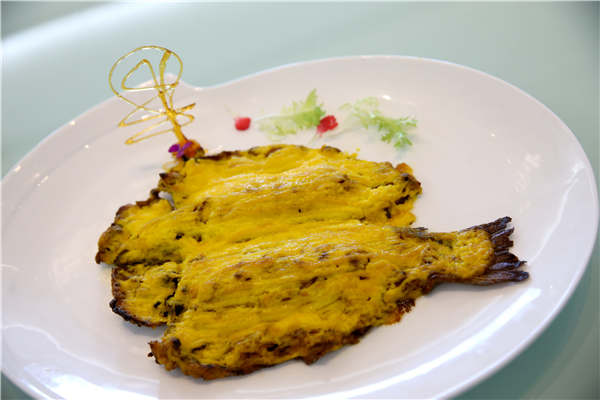 Yanxi Restaurant in Huairou offers diners a variety of delicacies with local ingredients, such as rainbow trout, foie gras, and Huairou tofu. Photos by Jiang Dong/China Daily
Beijing's suburban Huairou district produces some of China's tastiest rainbow trout, and now is a good time to enjoy this tasty delicacy, along with other local specialties, Liu Zhihua discovers.
As the weather warms up, Beijingers begin to swarm to the city's outskirts in search of early spring's greens, blooms and delicacies.
In Huairou district, north of downtown, as gentle breezes flow over the area near Yanqi Lake, Yanxi Restaurant is hosting a spring food festival through April 8.
Opened late last year near the famous lake where the APEC summit was held in October 2014, the restaurant can serve about 1,000 diners and now offers urban visitors a refreshing spring culinary experience.
The new menu features fusion-style delicacies based on Cantonese, Sichuan and Beijing fare, using signature local ingredients, such as chestnut mushrooms and rainbow trout.
Long Shisheng, head chef with the restaurant and a famous Cantonese chef, says the restaurant hopes to offer good value and innovation in crowd-pleasing dishes.
One example is the way the kitchen handles rainbow trout. Huairou is famous for this fish, which is called "ginseng from water" due to its high nutritional value.
Unlike the common barbecued rainbow trout in Huairou's restaurants and diners, Long cooks the fish with a Cantonese twist.