Veteran designer sets sights on the young crowd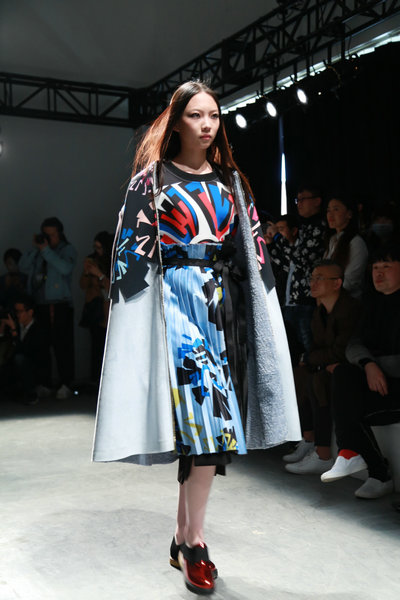 A model presents a design by Wang Yutao during China Fashion Week in Beijing.[Photo provided to China Daily]
Reputed Chinese designer Wang Yutao's 2016 autumn/winter collection, which was shown at China Fashion Week on Sunday, specifically targeted youth.
Called B+, it is the secondary line of Beautyberry, which Wang founded 11 years ago.
This was the second show of B+, following its debut last October.
The collection highlighted oversized coats, sporty jackets and clashing colors. Colorful fur adorned some of the pieces, giving them a luxurious yet youthful look.
Inspired by cats in Kyoto, Japan, the collection had a cartoon cat as its motif.
The patterns were hand-drawn by the designer and his team.
Wang is known for his understated, modern design that sometimes incorporates Chinese elements. He has been drawn to pandas and goldfish in the past.
"We don't avoid them (Chinese elements) or use them deliberately. We only use them when it feels natural," he says.
The show was done in collaboration with Kopenhagen Fur, the Danish fur-auction company, which provided fur for the design.
"He is a very diligent designer who is into new fabrics and new techniques," says Cui Yiyun, general manager of Kopenhagen Fur's China office. "He didn't use a lot of fur, but when he used it, the fur stood out."
As for his achievements, Wang won the Jinding Award, China's top fashion design award, at China Fashion Week in 2011. He held a runway show at Berlin Fashion Week as part of the Mercedes-Benz International Designer Exchange Program in 2012.
Wang also recently participated in The Goddess' New Dress, where his outfits were auctioned by major commercial brands and online platforms.
Wang says he took part in the event because he wanted to share with the public what design is about and how runway fashion can impact their daily lives. Moreover, he wants to promote his brand and designs.
Speaking about challenges faced by independent brands, Wang says a lack of funds and sales channels put a lot of pressure on entrepreneurs. Knock-offs available online also threaten the brands.
Compared with its main line, B+ has a lower price range, from 400 yuan ($65) to 5,000 yuan. The brand is now available at Galeries Lafayette Beijing and multi-brand fashion boutique D2C, as well as from an online store.
Wang says he plans to open two independent stores in Beijing.