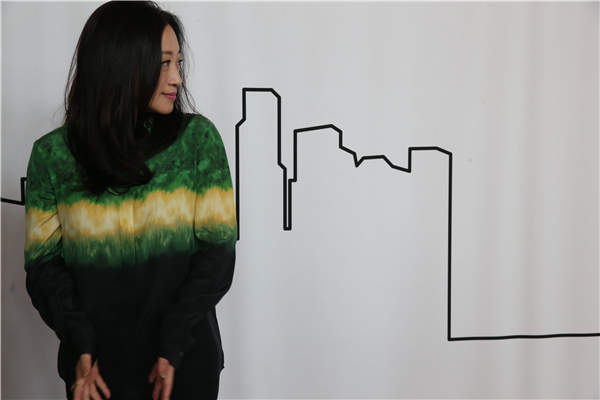 Ai Jing will hold a solo show in November in New York City, where she had lived for years and started her pursuit of visual art. Works on display will include the installations The Tree of Life and Wave. [Photo by Jiang Dong/China Daily]
After shifting from music to visual art more than a decade ago, Ai Jing achieves both recognition and satisfaction on two sides of the globe, Chen Nan reports.
Visual art has become Chinese singer-songwriter Ai Jing's passion over the past decade.
In November, she will stage her solo exhibition, Ai Jing Back to New York, at the Marlborough Gallery in New York City, with nearly 30 artworks created over the past decade, including sculptures, oil paintings and installations.
The works on display include My Mom and My Hometown, a tapestry of wool patches knitted by Ai's mother and bedecked with the English word "Love"; The Tree of Life, an installation work showing a lonely raven perched on a leafless oak tree made of tens of thousands of disposable chopsticks; and oil paintings under the group name I Love Color.
"New York is an important city for my transition from a musician to an artist. I always want to revisit the origin of my passion for visual art with my own works," says the 46-year-old artist, who announced the exhibition at the National Museum of China in Beijing on Tuesday.
In 1999, she started learning painting with renowned Chinese contemporary artist Zhang Xiaogang. Years later, Ai had reached a level high enough to hold a solo exhibition, I Love Ai Jing, at the National Museum of China in Beijing in 2012 and again at the China Art Museum of Shanghai in 2014.
A native of Shenyang, Liaoning province, Ai learned music with her father, who plays the erhu (a two-stringed bowed instrument).