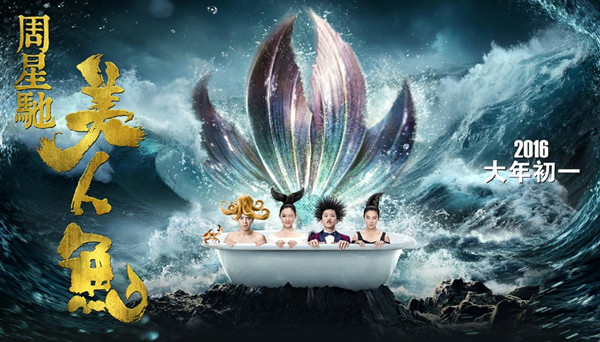 A poster of the movie Mermaid [Photo/Mtime]
Audiences say they are drawn by the beautiful actors, the gorgeous costumes and spellbinding story lines.
Chinese TV dramas and movies are becoming evermore popular in Vietnam as evidenced by their growing market share, with movies in particular posting record ticket sales with the features themselves receiving rave reviews from local audiences.
This year, the Chinese blockbuster science-fiction fantasy movie Mermaid directed by Stephen Chow, has swept box offices in Vietnam after debuting on Feb 10, during the traditional Lunar New Year holiday.
The movie, an environmental parable and a comic love story between a rich businessman and a mermaid, created a "mermaid fever" in Vietnam with audiences expressing their deep enjoyment of the film that made them both laugh and cry.
In March, "mermaid fever" became even "hotter" in Vietnam after photos of a cute six-month-old Vietnamese girl wearing a mermaid costume at a swimming pool went viral on the Internet.
Her parents said the idea of dressing up their daughter in a mermaid costume came as they were inspired after watching the Mermaid.
Earlier in 2015, the TV drama The Empress of China also created a craze in Vietnam with audiences eagerly waiting every day to watch the drama unfold on the Internet.
"I was so excited to wait for the next episode to see the new developments of the story," said Nguyen Ngoc Dong, 33.
At the same time, an online app which helps editing photos to look like characters in The Empress of China also went viral in Vietnam.
The makeup app adds vivid red lips, almond-shaped cat eyes with long eyelashes and a red flower mark on the forehead.
"I used the app on my own photos, and even on my husband's and my cousin's photos," Dong said, laughing. "It was so fun."
After its huge success online, the drama, also known as Saga of Wu Zetian, which is about the life of China's only known empress, was also broadcast on Vietnamese television in 2015.
Breathtaking scenes
Dong said she likes Chinese TV dramas and movies because of the good-looking actors and actresses, as well as the magnificent, breathtaking scenes.
"The actresses are extremely beautiful and their costumes are also gorgeous," Dong said.
Nguyen Huong Tra, a 29-year-old office worker in Hanoi, is also a fan of Chinese films. Tra said she was addicted to the Chinese TV drama My Fair Princess when she was a child.
"I fell in love with the drama and often imitated the actions of the characters," Tra said.
Nguyen Ha Thu, 25, said she used to collect small stickers with photos of the characters in My Fair Princess and stick them all over her schoolbag and bedroom walls.
According to Nguyen Le Chi, a famous Vietnamese translator who has translated many Chinese TV dramas and movie scripts over the past 20 years, Chinese TV dramas and movies are quickly reworked for local audiences, particularly as film genres in China are becoming increasingly diversified.