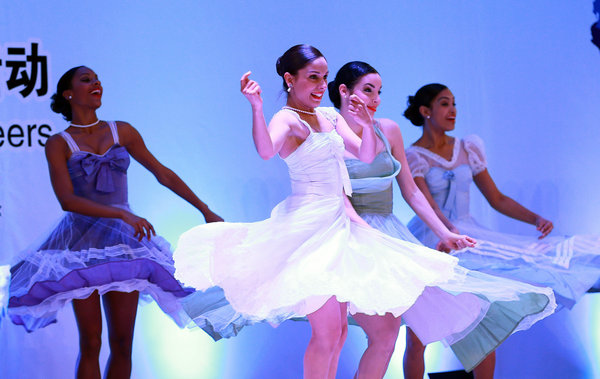 Dancers from Lizt Alfonso Dance Cuba perform in Beijing as part of the ongoing China-Latin America and Caribbean 2016 Year of Cultural Exchange.[Photo by Zou Hong/ China Daily]
It's a warm spring Monday afternoon at the foot of Badaling section of the Great Wall on the outskirts of Beijing when Cuban dance company, Lizt Alfonso Dance Cuba, raises the temperature with a performance fusing ballet, flamenco, cha-cha, salsa and rumba.
Thirty dancers fill the stage as they perform thematic works portraying Cuban culture - from the 1950s to the present day, including Hombre, which has the entire female ensemble dancing and Neighborhood, which is derived from Cuban folk dances mixed with rock 'n' roll.
"It feels like being in Cuba and experiencing the country's culture," says Gao Tianqi, one of the students from the dance department of Beijing Humanities University.
Before the Cuba Vibra! show, Gao and other students from the university interact with the dancers. He even dances the salsa with Cuban dancer Aymara Castellated Rieumont.
"We had a great time. The students are great dancers," says 26-year-old Rieumont, who started dancing at 6. "We have performed in China before, but have never interacted with the people in this way. It's so enjoyable."
The event is part of the ongoing China-Latin America and Caribbean 2016 Year of Cultural Exchange, a yearlong program in China, Latin America and the Caribbean. It aims to promote cultural exchanges and boost friendship and mutual understanding among peoples.
According to Juan Carlos Coello, company manager of Lizt Alfonso Dance Cuba, which has been taking Cuban music and dance around the world for the past 25 years, the troupe had toured 15 cities in China with the gala, Cuba Vibra!, for five weeks three years ago, but the troupe had not managed to visit Beijing then.
"Finally, we are here (in Beijing) and there is nothing better than culture and art to bring people together," says the manager. "I have also fulfilled my dream of climbing the Great Wall, something which I have wanted to do since childhood."
The troupe also performed at the opening ceremony of the China-Latin America and Caribbean 2016 Year of Cultural Exchange, with two shows on March 24 and 25 at the Tianqiao Performing Arts Center.
Founded in 1991 by dancer-choreographer Lizt Alfonso, the Havana-based dance troupe has become Cuba's most popular dance company.
Coello says that when Alfonso founded the troupe she wanted to bring something new to Cuba's dance scene.
"We want to pass all the passion, emotion and spirit of Cuba to audiences around the world," says Coello.
"We want to come back to China soon."