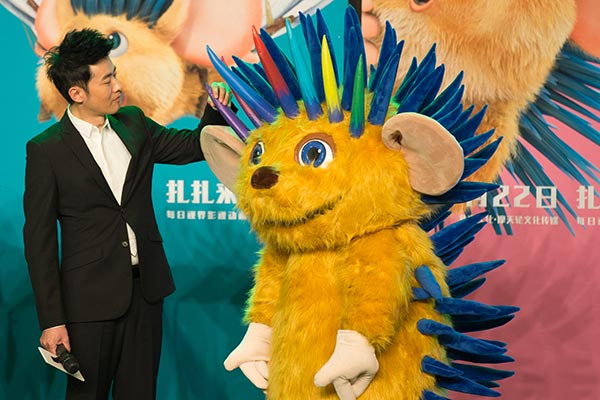 Actor Ren Quan (left). [Photo provided to China Daily]
A-list stars usually have one main job in movies — help sell them.
But they could also themselves put in money into movies, as the new Chinese animation Bobby the Hedgehog seems to suggest.
The movie has been produced by StarVC, a company managed by top Chinese actors and actresses Ren Quan, Huang Xiaoming, Li Bingbing, Huang Bo and Zhang Ziyi.
According to Ren, the movie's high-quality visual effects was the main reason behind the venture capital's decision to produce it. Critics often view Chinese animation industry as short on quality.
Somewhat similar to the British animation hit Shaun the Sheep, the Chinese movie narrates the adventurous journey of a daring hedgehog along with his friend, a pigeon, in an urban setup.
Directed by veteran animator Huang Jianming, the film will debut on the Chinese mainland on July 22.
Some five years have gone into preparing the script and producing Bobby the Hedgehog.
"It is a heart-warming, inspiring tale that is fit for audiences of all ages. We hope to transfer some values about self-confidence and friendship, among others, through the movie," Huang, the director, recently told reporters in Beijing.
Related:
China fully funds first Hollywood film