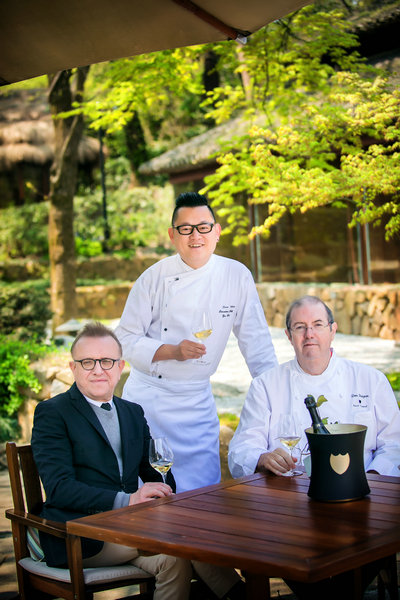 Celebrity chefs Pascal Tingaud (right), HowardCai (center) with Richard Geoffroy, chef de cave of Dom Perignon, at a tasting event in Hangzhou.[Photo provided to China Daily]
When wine critic and celebrity chef Cai Hao was invited by the French champagne brand Dom Perignon to team up with French celebrity chef Pascal Tingaud to design a menu, he felt very excited. The 2006 vintage and P2 1998 of the brand had become available on Chinese market, and Dom Perignon wanted to pair them with both Chinese and Western food for Chinese fans to enjoy.
"Dom Perignon is among my favorite champagne brands, and I love its wines. They are very classy," Cai, widely known as Howard Cai, says.
As founder of Howard's Gourmet, a kitchen that aims to promote Chinese food on world culinary scene, the Chinese-American is famous for sharing his passion for Chinese food, and often caters for celebrities and events both at home and abroad.
The wines match well with seafood and light flavors, so the two chefs decided to pair the 2006 vintage with three dishes: lobster consomme, double-broiled Chaoshan sea-whelk soup, and scallop, caviar and watercress veloute.
For the P2 1998, they prepared seven dishes, including a grouper fish with black truffle, braised pork knuckle with tangy Chinese homemade rice cake, and stir-fried crabmeat with light ginger sauce.
The tastings were conducted over several lunches and dinners held in Beijing and Hangzhou, Zhejiang province, for four days last week.
Richard Geoffroy, Dom Perignon's "chef de cave" (cellar master), came to China for the events, and noted that the 2006 vintage is Dom Perignon's fifth successive vintage champagne, describing it as "juicy".