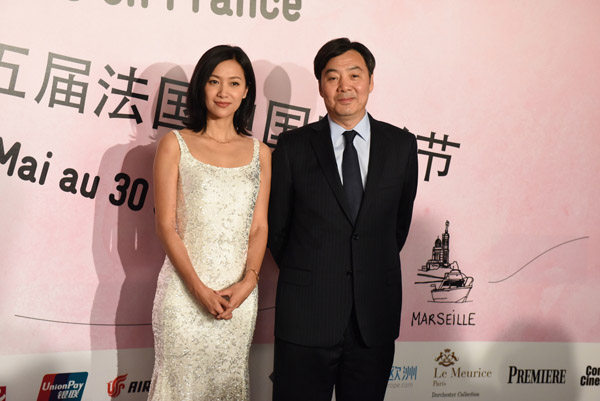 Chinese actress Xu Jinglei and Chinese Ambassador to France Zhai Jun pose for a photo at the Chinese Film Festival in Paris, May 11, 2015. [Photo/paris.cccweb.org]
The China Cultural Center in Paris has developed three flagship projects since 2002 when it was established, including the Chinese Film Festival in France, Chinese Opera Festival in Paris, and Chinese Quyi Festival in Paris.
Chinese Film Festival in France
The film festival is held from May to June each year since 2011. During the festival, about 10 new Chinese films are shown for 1 to 3 weeks in the major cities in France, such as Paris, Lyon, Marseille and Cannes. The festival attracts millions of locals, becoming the most influential and popular cultural event organized by the China Cultural Center and the State Administration of Press, Publication, Radio, Film and Television of China (SARFT).
The Chinese films showcased during the festival in 2015 were all newly produced in the past year, which fascinated audiences of 18,000. The center also held a seminar on Chinese and French films in Cannes during the 2015 festival. The seminar aims to promote cooperation in film production. An agreement on film co-production between the two countries was signed during the seminar.
The 2015 film Wolf Totem jointly produced by China and France is the fruit of the cooperation, which enjoyed box office success in both countries.
A press briefing for the film festival is held each April, inviting reporters from both major Chinese and French media. About 3,000 film festival brochures and 1,000 posters were distributed each year. During the festival promotion, the website of the center often receives more than 50,000 hits. As a result, the center was awarded by SARFT for its outstanding contribution to the international promotion of Chinese film.