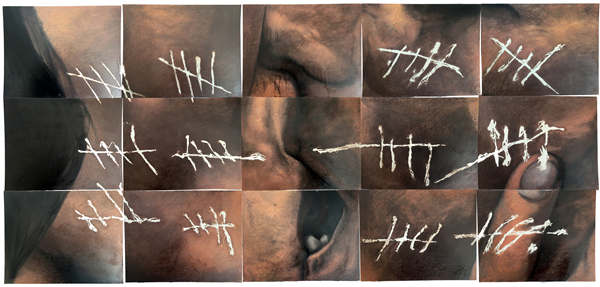 Intimate Transgressions features works by artists from home and abroad. Its highlights include Angel (above) and Paradise Lost. Photos Provided To China Daily
An ongoing exhibition at the Hangzhou Library shows violence against women during war through the multimedia artworks of contemporary artists from home and abroad.
Intimate Transgressions runs through April 16 in Hangzhou, capital of East China's Zhejiang province, and features 43 artists from China and nine other countries, including Japan, Israel and Ireland.
Since last year marked the 70th anniversary of the end of World War II, the project was initiated in New York by Sam Chen, president of the Center for Asia Pacific Affairs, an NGO that documents the brutal abuses of Chinese women by Japanese forces during the country's invasion of China.
At that time, large numbers of Chinese women were forced into sexual slavery by the Japanese military.
The CAPA decided to present the subject through contemporary art and asked Irish artist Fion Gunn to put together the New York show in September.
Gunn says the project isn't a one-time event but a conversation that will likely evolve.
After the debut exhibition in New York, Intimate Transgression was presented at Beijing's 798 art hub in October.
"We brought the exhibition to Hangzhou because Hangzhou is a major center of art," says Hu Yuanbo, art director and a curator of the Hangzhou show along with Gunn.
As an artist with ties to the city, Hu was able to pull in interesting artists from Hangzhou.
"It's also great to involve local audiences, because they know the local artists, and it's great that they can see them in an international context," Gunn tells China Daily on the sidelines of the Hangzhou show.
Nineteen local artists are part of the exhibition.