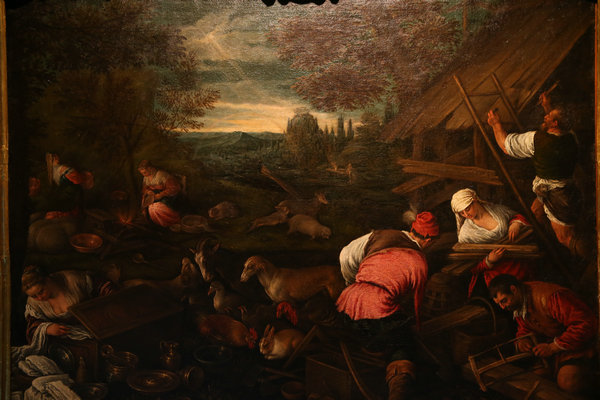 The show Venice and the Venetian School reveals the distinctive art style of the masterpieces from the 15th to the 18th centuries and how Venice influenced artistic developments in Europe.[Photo by Jiang Dong/ China Daily]
Enthusiasm for Western art has grown in China in the past few years, with people frequenting museums and galleries when traveling abroad, and purchasing Western works at art fairs and auctions.
More than 1.4 million Chinese reportedly visited Italy in 2015.
Venice, from where trader-traveler Marco Polo embarked upon his epic journey to the East in 1271, is now a popular destination among Chinese tourists who not only enjoy sightseeing but also visit the world famous Venice Biennale.
To cater to an increased interest in Western art among Chinese, the NMC has been holding on average three such major exhibitions a year, attracting many even from outside Beijing.
The museum, which normally closes at 5 pm six days a week, had extended its business hours into the night during the Ten Masterpieces of French Painting exhibition in 2014.
The NMC's position in the heart of the tourist-packed Tian'anmen Square area also ensures that it draws large crowds.
Chen says although the current five-year show of Italian art at the NMC will end in January, he hopes an exhibition on Milan's design industry can be held in the future.
Contact the writer at linqi@chinadaily.com.cn