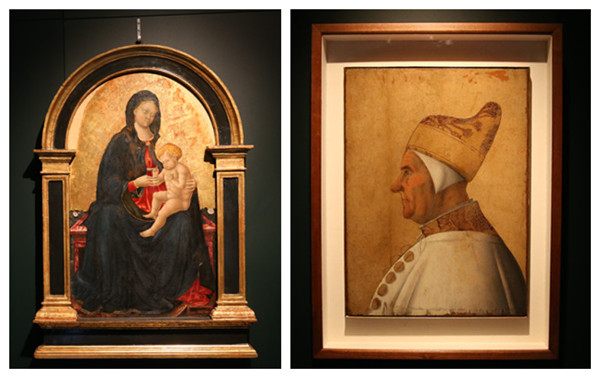 The show Venice and the Venetian School reveals the distinctive art style of the masterpieces from the 15th to the 18th centuries and how Venice influenced artistic developments in Europe.[Photo by Jiang Dong/ China Daily]
The "soft, crystal radiance" of Venice, formed by the combination of sea and sun, and the richness of colors together make it a "city of happiness", he says.
Venetian artists used a bright palette to give the cityscape a poetic touch. They also created joyful and positive characters - both gods and people - and they preferred portraying the fullness of the female form. Because of its strategic location on trade routes between the West and the East, Venice absorbed artistic elements of China, India and Persia that are reflected in the highly decorative details of paintings and architecture.
The exhibition also talks of how a city's people endorse historical and cultural heritage that helps tourism grow, says Chen.
Earlier, he had turned down an artwork lineup for the current exhibition suggested by Italian museums, because the art pieces had already been shown in two Chinese cities.
"We wanted to show pieces that people here have yet to see," Chen says, adding that the current lineup reveals the relationship between a city's development and its people's comfort, and is more oriented at China's situation today as it urbanizes even more quickly.
On March 16, Venice was declared the "most endangered" heritage site in Europe by the protection group Europa Nostra. The city's artistic past seems to be under threat from busy sea traffic and sea erosion.
Yuan Yuan, a fan of Italian art from Beijing, says the artworks remind her of the years when she studied at Ca' Foscari University of Venice. She runs a company that organizes cultural activities out of the Chinese capital and Milan.
"I often went to the Piazza San Marco (the main public square in Venice) after school. At dusk, as the city was enveloped in hues of purple and orange, street musicians played symphonies and pigeons flew between historic buildings ... It felt like a dream," she says.
"The panorama of colors and the sophisticated beauty of Venice must have haunted every artist who once lived there, as they racked their brains to reconstruct it on canvas."
The exhibition is the final chapter of a three-part series of shows on Italian art at the NMC since 2012. The previous shows, Renaissance in Florence and Rome: Toward Baroque, brought more than 100 artworks, drawing some 700,000 people.
Chen expects the Venetian School show to draw between 400,000 and 500,000 visitors.