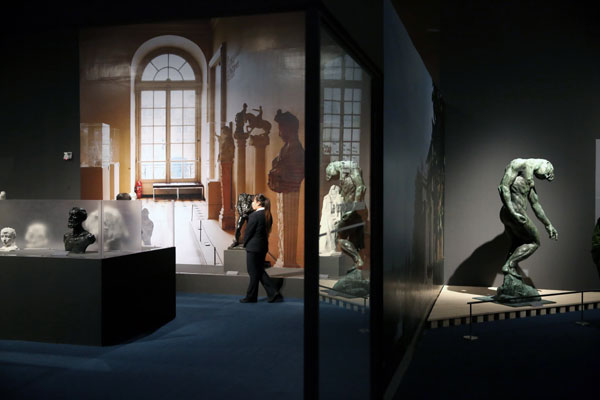 The exhibition chronicles the creative and influential life of Rodin.[Photo by Jiang Dong/China Daily]
"If he were still alive, he would be very glad to come here, surrounded by the Chinese art treasures displayed by the National Museum of China," she said at the launching ceremony on Nov 27, according to the Shanghai-based Oriental Morning Post.
The exhibition comprises four parts, chronicling the creative and influential life of Rodin (1840-1917) by displaying his works in sets mimicking the artist's residence and studio.
The most celebrated work of Rodin, showcased in the center of the exhibition room, is The Gates of Hell, inspired by Italian writer Dante's epic poem The Divine Comedy. The Thinker was originally a figure of this monumental sculptural group work.
Initially a commission for a proposed museum in Paris that Rodin planned to finish in five years, the bronze sculpture took the artist 37 years to create, with more than 200 figures, until his death. The museum was never built, but the work becomes Rodin's most ambitious endeavor.
Other classic works, including The Age of Bronze and The Burghers of Calais, are also showcased in the Beijing show. Moreover, 61 sketches for his gypsum sculptures are on display, which allow viewers to see the artist's conceiving and creative process.
Because the gypsum productions are easily damaged during voyages, they rarely leave France - so this is a precious opportunity to see them, according to the museum.
"Rodin is a household name in China and has influenced several generations of Chinese artists, including me," says Chen Lyusheng, deputy director of the National Museum of China.
The Rodin show is a grand finale for a series of art and cultural events celebrating the 50th anniversary of Sino-French diplomatic relations, established on Jan 27, 1964. The exhibition will continue through March 22.