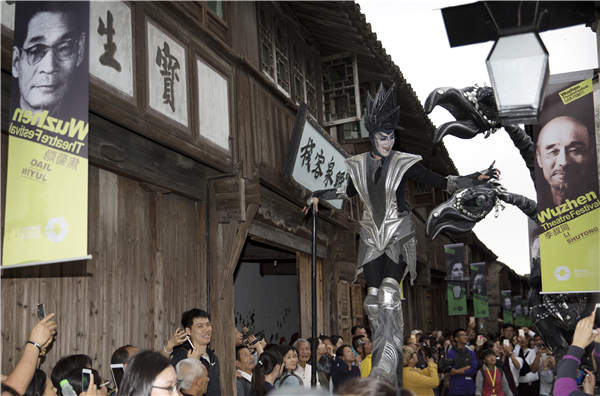 Artists from around the world show off their skills at the outdoor carnival during the Fourth Wuzhen Theater Festival, which runs through Saturday at the ancient water town of Wuzhen in Zhejiang province.
As directed by Chen Minghao, Big D is an adaptation of Durrenmatt's Romulus the Great. However, it is not the kind of traditional staging one would find in mainstream theaters. The venue is a lobby with a grand staircase. The boy emperor is played by Zhang Luyi, who has recently been thrust into the spotlight with his breakout role in a television series. The experience for Big D, as he rightly put it, is more of a party, a decadent one with some thought-provoking ideas thrown in, than a normal play.
This could be the signature of Meng, known for his bold experiments, who has taken the festival away from the more mainstream Lai programs.
In the first two years, when the event was directed by Lai, the festival included more narrative-driven fare familiar to most people.
Meng's change in direction has set off sparks when it comes to feedback, often with widely diverging opinions on a given piece.
But as Octavian Saiu, a theater expert participating in the critics summit put it-when two critics don't agree on a piece, the winner is the piece.
This festival's theme may be "Gaze Beyond", a word play on the name of honorary chairman Lin, but gazing from a bridge or by the riverside invariably leads to a plunge into the river that is the charm of theater.
The Wuzhen festival concludes on Saturday.