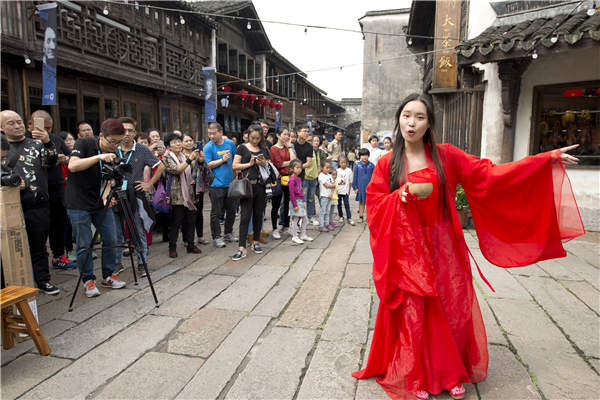 Artists from around the world show off their skills at the outdoor carnival during the Fourth Wuzhen Theater Festival, which runs through Saturday at the ancient water town of Wuzhen in Zhejiang province.
Lin Zhaohua, the 80-year-old director of this production, is a stalwart of Chinese theater. Agreeing to be honorary chairman of the festival this year, he finally came to Wuzhen "after so many friends had been saying great things about it", and he says that it is the best theater festival in China. "Yes, better than the one in my own name," he adds bluntly. "Mine is not up to it in budget, scope, breadth or influence."
Lin's festival, now in its sixth year, is not officially called a festival. It usually programs a dozen plays, some from Germany and Eastern European countries, and is presented in Beijing and Tianjin in conjunction with existing programs.
The Wuzhen festival, however, took the theater world by storm when it was launched in 2013, with its passion and professionalism. One can say it achieved overnight success. Its four parts are all expertly curated and programmed. The invited shows have gradually expanded to 22 this year; the youth competition, now with 18 half-hour plays, is producing bona fide quality works; the forums, 17 in all, feature discussions of substance; and street performances for the carnival section, totally 1,900 shows, inject a big dose of festival atmosphere to the small town.
Selling tickets is no longer a concern for the organizers. Big D was sold out in a record seven minutes and there is even online scalping for free tickets to the finals of the competition.