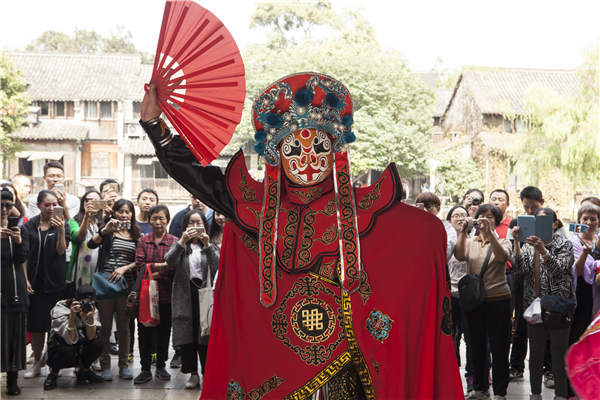 Artists from around the world show off their skills at the outdoor carnival during the Fourth Wuzhen Theater Festival, which runs through Saturday at the ancient water town of Wuzhen in Zhejiang province.
During the forum titled "Dialogue Between East and West, Tradition and Modernity", which served as a summit for the International Association of Theater Critics, a new addition to the festival, many participants brushed aside a Japanese production of The Cherry Orchard as "a blender and a mixer" where the director simply dumped her ideas on environmental protection with little regard to the niceties of the art form.
Peng Tao, a theater critic and director of the dramatic literature department at the Central Academy of Drama, says many theater directors want to place an emphasis on the social aspect of a theater piece, but end up howling and shouting slogans instead.
This dichotomy is the focus of Dr Godot or Six People Searching for the 18th Camel, a play written by Dietrich Schwanitz, whose Chinese version was premiered at the festival.
It was a dramatized debate about the significance of theater as taking place in a madhouse. The participants were Bertolt Brecht and George Bernard Shaw advocating social importance, Eugene Ionesco and Samuel Beckett defending individualism, and Luigi Pirandello, whose shift in political stance and whose artistic explorations have influenced the others. Or the characters could be madmen deluding themselves to be 20th-century theater masters. The production added another layer by presenting it as a pre-rehearsal reading, thus lightening the jargon-filled stuffiness with comedic schtick.