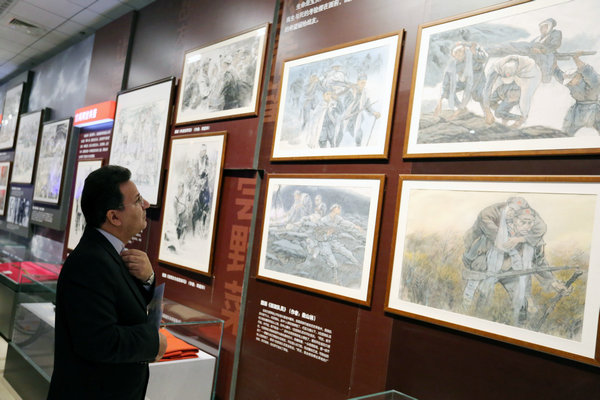 A foreign visitor is drawn to the exhibits at the ongoing Long March exhibition at the China People's Revolution Military Museum.[Photo by Wang Zhuangfei/ China Daily]
The Long March isn't just a Chinese story. It's a universal legacy.
That's the feeling international VIPs expressed during a special visit to the ongoing exhibition about the Red Army's military retreat at the China People's Revolution Military Museum on Sunday.
Other cultures have other names for, and particulars of, their specific idealism-propelled, against-all-odds come-backs that generated overwhelming triumph that inaugurated a new social paradigm.
But the essence is universal.
"This is not only China," Romanian physicist Adrian Buzatu says.
"Many countries have gone through their own problems and revolutions, so everybody can relate to this having some hardships to arrive where they are. Everybody wants to live better the next day. So they draw strength from their history to continue.
"You could call it a human trait … to continue to persevere and hope for the better and to fight for your future."
The show, which is open to the public until Oct 31, commemorates the 80th anniversary of the Red Army's implausibly successful strategic retreat from Kuomintang forces. Only about a tenth of the soldiers who set out survived the 9,000-kilometer sojourn across some of the country's most perilous geography that lasted over a year. The Communist Party of China regrouped in Shaanxi province's Yan'an and went on to establish New China in 1949.
The exhibition fuses multi-media art of various genres with actual artifacts to tell the epic story.
Senegal's ambassador to China, General Abdoulaye Fall, says he can relate to the exhibition's message through his experiences as ambassador to China and as a military man of 40 years.
Defense Attache of Denmark, Brigadier General Carsten Rasmussen, says the exhibition deepened his understanding of the "amazing achievement" that is the Long March.
"I have learned a lot of new things about history. But what surprises me most is that, every time I think I understand something about Chinese history, I realize that there is so much more I need to read and learn," he says.
"I will describe (the Long March) as a classic struggle between a conventional army and a revolutionary guerrilla army, where the guerrilla army showed the strength of being in the country, being among the population and gaining support from the people that put it in a position where they could win over an enemy which was, in theory, much stronger than they were."
Afganistan's ambassador, Janan Mosazai, says the exhibition shows the sacrifices of this period.
"I think what it signifies is that, if you struggle, give sacrifices, work hard and stay united, you can reach your goals," he says.
"And I think it's appropriate and fitting that the Long March is celebrated and used as a metaphor for that kind of struggle and the endeavors the people of China have undertaken …under the leadership of the Communist Party of China."
Indeed, the idealism that compelled endurance during, and victory following, the rebellion inspired many visitors.
"I know a little about the Long March but never thought of such a lofty revolutionary ideal as the soldiers and officials had at that time," Tabuchi Matsugu, general representative with the Beijing-based Japan-China Economic Relations and Trade Center, says in fluent Chinese.
Polish journalist Kasia Harrold, who has lived in China for over two decades with her British husband, Michael Harrold, says the exhibition shows "enormous heroism".
They brought their 13-year-old son.
"People these days don't go for things like that," she says.
"We don't have such strong ideals. They did."
Her husband points out that every culture has a similar story.
"But the Long March is absolutely unique," he says.
"Nobody else could claim anything like that as part of their heritage."
Liang Shuang contributed to this story.
Contact the writers through erik_nilsson@chinadaily.com.cn