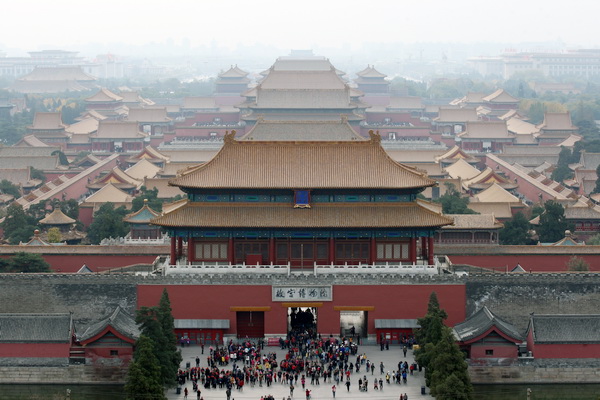 Overlooking the Palace Museum from Jingshan Mountain. [Photo by Wang Zhuangfei/asianewsphoto.com]
The Palace Museum will limit the daily number of visitors to improve their experience during the upcoming summer holiday peak season.
The museum will set up special priority channels for group visitors and individuals who book tickets online or make a reservation by telephone at the Wumen entrance, also called the Meridian Gate.
An unnamed museum official said that individual visitors are encouraged to book tickets online to avoid the long queue leading to the entrance. Meanwhile, if they want a more comfortable tour, they should avoid the daily peak period from 10 am to 1 pm.
The museum's online ticket booking website has expanded its booking closing time by three hours, to midnight from 9 pm. Travel agencies will receive a 10 percent discount when booking online, starting today.
The museum decided to open more exits and entrances to avoid the push and squeeze of visitors during the summer peak season. It will also adjust the number of ticket windows based on visitor flow to minimize long lines at the entrance.
In addition, the museum promised to strengthen security inspections in crowded areas like the Wumen entrance, the square outside Shenwumen, also known as the Gate of Divine Prowess, and the exit near Donghuamen, also called the Gate to the East.
To encourage individual visitors to avoid crowded areas, the museum also offers  specific information of the latest exhibitions in its official website (http://www.dpm.org.cn), such as the exhibition of Ming Dynasty (1368-1644) porcelains in in Yanxi Gong (Palace of Prolonging Happiness), and the exhibition of bronze vessels in Chengqian Gong (Palace of Celestial Favor) and Yonghe Gong (Palace of Eternal Harmony).
Since June 13, 2015, The Palace Museum introduced the visitor limit policy on June 13. It also required that personal identification cards would be needed to purchase entry tickets to discourage scalpers and that all group visitors need to book tickets online in advance.
According to the museum's latest data, the number of people who booked admission tickets online maintained sustainable growth after the new policy was introduced. From June 27 to July 2, 51,466 visitors bought tickets online, 20.3 percent of the total visitor number.