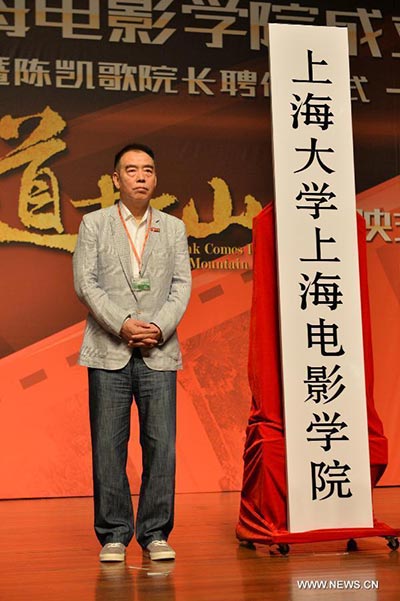 Director Chen Kaige attends a ceremony marking his appointment as the dean of the newly found movie college of Shanghai University, July 5, 2015. As a head figure for the fifth generation of Chinese filmmakers, along with Zhang Yimou, Chen is known for his visual flair and epic storytelling. He is the only Chinese director to win the Palme d'Or at the 1993 Cannes Film Festival for "Farewell My Concubine." [Photo/Xinhua]
Shanghai University marked the creation of its new film academy and the appointment of Chinese director Chen Kaige, Palme d'Or winner of the 1993 Cannes Film Festival, as its dean in a ceremony on July 5.
"I vow that I will not be a nominal dean; if so, please make me step down," Chen said at the inaugural ceremony, promising that he definitely will "go into the classroom and teach".
Chen said he will spare no effort in building the academy into a competent, world-renowned professional film academy that trains elites in the film industry.
"I hope that graduates from here will be proud to say that, 'We are modern youth with individual thinking, with humanist consciousness, practical ability and rational compassion'," Chen said in his speech.
He also said he hopes that "students who study there can think freely, have their very own ability to be creative, and make greater contributions to the Chinese film industry".
As to why Chen Kaige stood out as the best candidate for the position, university President Luo Hongjie said it's because Chen is quite responsible.