Designer leaves theater to give stage to real-life wardrobes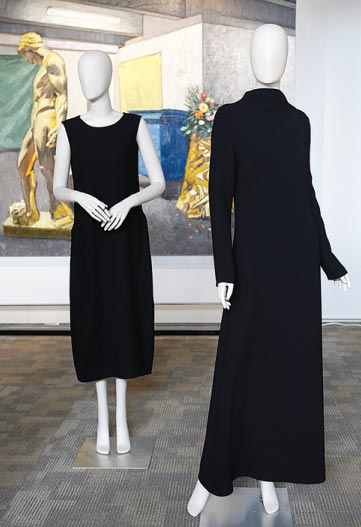 Clothes from Ines Fresedo's first collection. [Photo provided to China Daily]
Moving from playwright to fashion designer is a huge career jump. But He Feinan says it came naturally.
Her love of theater costumes compelled the woman trained as a scriptwriter at China's top drama school to make the leap.
She now hopes to create wardrobes for characters in the real world with her womenswear brand Ines Fresedo.
The label, named after two Argentinean artists who inspire He, showed its first collection in Beijing in May after debuting at the Shanghai Fashion Week in April.
The collection takes its essence from modern art's sense and sensibility. It features sharp coats and sleek knitwear. Refreshing silhouettes are rendered with clean lines and calm, neutral colors.
It's ideal for women seeking more affordable designer pieces.
The brand will start selling in multi-brand fashion stores in Beijing, Shanghai and Chengdu this fall.
Tell us a little bit about your experience in theater before you founded Ines Fresedo? How did you make the leap from playwright to fashion designer to entrepreneur?
I studied drama literature at the Central Academy of Drama. I was trained as a scriptwriter. Anyone who has been through that kind of training will never give up their passion for theater. I was no exception.
I went on to study in Chinese University of Hong Kong. I made money writing TV dramas while continuing with theater workshops.
It gave me the chance to get into costume design. I realized that costume design, compared with scriptwriting, is a much more rewarding way to create a character. And it is more perceptual. However, ready-to-wear is totally different from costume design. It was a new challenge for me.
The biggest obstacle for me was my lack of expertise in fashion design. I studied at the Beijing Institute of Fashion Technology, and in Antwerp and Paris, to enrich my understanding. At the same time, I found a professional designer to work with me.