Designer leaves theater to give stage to real-life wardrobes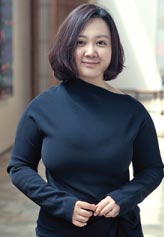 He Feinan, founder of womenswear brand Ines Fresedo. [Photo provided to China Daily]
What do you look for in your partner designer?
First, we have to have similar aesthetics. Of course, there is no right or wrong in taste. A good designer has to have focus, and know when to say no since the fashion world is full of disturbances.
He also has to be rational. Design is something that happens when inspiration turns into calmness and rationality.
What inspires Ines Fresedo in general?
We are often inspired by modern art. Compared to matching combinations, I prefer contrasts. My inspiration usually comes from the contrasts between rationality and romance, heaviness and lightness, in modern art.
Who do you design for?
Women who know about themselves, who look inside themselves, who no longer need to "be seen" but perfect themselves from inside.
What is the pricing strategy for Ines Fresedo? Where can people try it?
Ines Fresedo will be more affordable than other independent designer brands. We are a more commercial ready-to-wear brand.
What do you want Ines Fresedo to be in the future?
I wish it to be a commercial brand of a certain scale that still sticks to its own design concept.
Related: