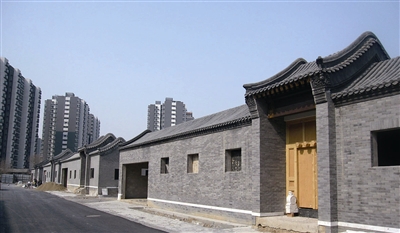 Beijing bans fakery in traditional rural architecture. [File photo]
The Beijing municipal authorities have issued guidelines on the renovation of traditional buildings and structures in the countryside.
Those guidelines advise developers to respect and protect traditional architectural styles that are unique to rural areas.
The guidelines were jointly released by the Beijing Municipal Commission of Housing and Urban-Rural Development and the Beijing Municipal Commission of Rural Affairs. They categorize traditional countryside buildings into three categories depending on their historic value. The more historically significant, the less renovation allowed.
Local architectural styles should be given full consideration during renovations, according to the guidelines. Houses in the countryside are different from imperial structures in downtown Beijing, and should maintain their unique style instead of blindly imitating others.
Moreover, residential houses have enclosed courtyards, a unique feature. In order to protect this feature, the guideline advises that large and permanent structures should not be added to courtyards.
The guidelines stipulate that classic architectural features, such as a pavilion over a well, a pavilion over a stele, a memorial archway at a road entrance, a screen wall at a courtyard entrance, and white marble handrails at roadsides, should not be added to original architectures in renovation.
The authorities also said that architectural details should retain their original style, including walls, roofs, doors, windows, and even trees and flowers. Renovation activity should improve the quality of life of local residents through upgraded facilities, while copies of antique dwellings and structures are discouraged.