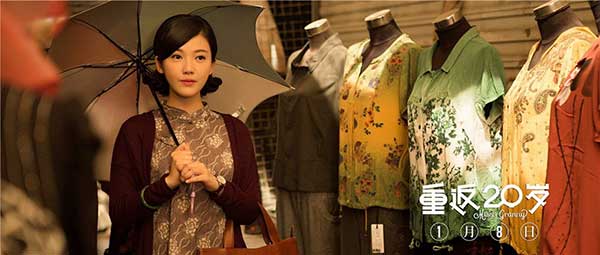 Miss Granny, a Chinese adaptation of a South Korean production, has performed well in the Chinese box office early this year.[Photo provided to China Daily]
Young filmmakers in China look toward South Korea's industry for support of their ideas. Wang Kaihao reports.
Young Chinese filmmakers will likely benefit from closer cinematic cooperation between the country and South Korea as expectations surround a joint film festival in Dachang county, Hebei province.
The opening of the second annual Chinese Korean "Share Your Dream" Short Film Festival was announced on Tuesday at a media conference, which was held in Dachang.
Co-hosted by South Korean entertainment giant CJ E&M and the Chinese People's Association for Friendship with Foreign Countries, a government body, the festival is estimated to fetch more than 500 film entries from all over China this year, compared with 340 last year, organizers told reporters.
Films can be submitted for the competition until the end of the month, with the results expected to be declared in September. While the top award is of 20,000 yuan ($3,200), some potential filmmakers will also be picked for training at studios in South Korea.
"The event is a red carpet that leads to a promising future," says Park Keun-tae, CEO, CJ E&M China. He says the event may even become the largest-scale communication program between the two countries' youth.
"For filmmakers from China and South Korea, this is a chance to join hands to win a world-class influence in the cultural innovation industry."
China hosts about 20 major short-film festivals every year.
Sha Mo, the China-Korea festival's top awardee last year, says the festival offers a real platform for filmmaking green hands to interact with industry people.
"I've had the opportunity of meeting with many big shots from South Korean cinema, and now have a long-term mechanism to be taught by them," Sha says.