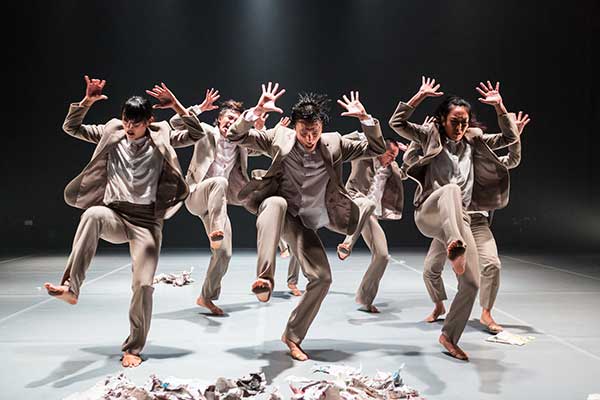 This year's Beijing Dance Festival features 13 programs, including Organized Chaos by Singapore's T.H.E. Company.[Photo provided to China Daily]
A Beijing dance festival has kept its heels dug into the cultural scene for past few years, even as it seeks market traction, Chen Nan reports.
It hasn't waltzed into market triumph yet, but the Beijing Dance Festival is still kicking seven years after its inception.
The two-week international gathering of contemporary dance companies, local young dancers and amateurs, scheduled from July 16-28, will feature a youth dance marathon, new choreographers' original works, smaller innovative projects and major international productions.
More than 100 artists from Beijing, Guangzhou, Hong Kong, Taipei and 10 countries, including the United States, Israel, Spain, Singapore and New Zealand, will perform in 13 programs.
The opening program, Faded Monologue, by Beijing Dance/LDTX's resident choreographer Ma Bo, will be staged at Beijing's PLA Theater on July 23.
Her first solo choreography is a reflection of a woman in Beijing's fast-paced life.
The Shaanxi province native graduated with a degree in ethnic Chinese dance from the Beijing Dance Academy in 1991 and joined the Guangdong Modern Dance Company in 1993. She co-founded Beijing Dance/LDTX in 2005.
The 46-year-old says: "My personal life as a wife and mother has become entangled with my choreography. I have a lot to say with my work. The emotion is complicated. It tells of a woman's career passion, attitude toward aging and inner struggle. She can be strong, vulnerable and sentimental at the same time."
A highlight of this year's festival is Israel's L-E-V (heart in Hebrew) Dance Company, says program director Karen Cheung.