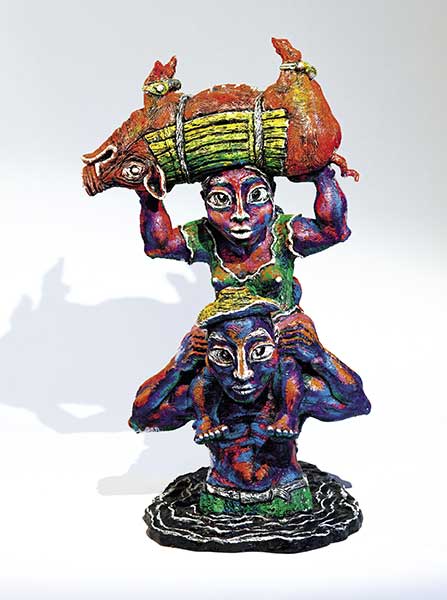 Crossing the River, painted on fiberglass by Luo Zhongli.[Photo provided to China Daily]
A new exhibition showcases the work of Luo Zhongli, who is regarded as the father of modern Chinese art, Zhang Kun reports in Shanghai.
Being the president of the Sichuan Fine Arts Institute has hindered his art, yet it was a price Luo Zhongli was willing to pay.
The 67-year-old artist, whose 1980 painting Father is recognized as a landmark in modern Chinese art, was speaking in Shanghai on June 10 for the opening of his exhibition The Art of Luo Zhongli in the historic Ampire Building on the Bund.
The exhibition, organized by the auction house Christie's, runs through July 15. This is the first time Christie's has presented a solo exhibition of a contemporary Chinese artist in Asia.
"When we look back for the beginning of China's contemporary art, and ask who opened the door to the new era, Luo Zhongli's Father and other works will inevitably come up in the discussion," says Zhang Dingyuan, vice-president of Christie's Asia.
Luo has continually refined his creative style, but his subjects have remained the same, says Zhuang Jun, an expert on 20th century and contemporary art at Christie's. "You always find love and humanity in his depiction of rural people," she says.
As a student of art at Sichuan Fine Arts Institute, Luo used to go to the countryside on long sketching tours, staying in the homes of people he met.
He remembers vividly the smoke and dark shadows, as the villagers told stories by the fire.
"They were tales of magic realism, so allegorical that they lingered on in my mind for many years. I have benefited from the experience ever since," Luo recalls.
He was a sophomore student at SFAI when he created the painting Father. China was recovering from the turmoil of the "cultural revolution" (1966-76) at the time. For decades art was reduced to being a propaganda tool. For this purpose, the subjects were supposed to be heroic, flawless and inspiring. No other style was acceptable.