Mushroom Kingdom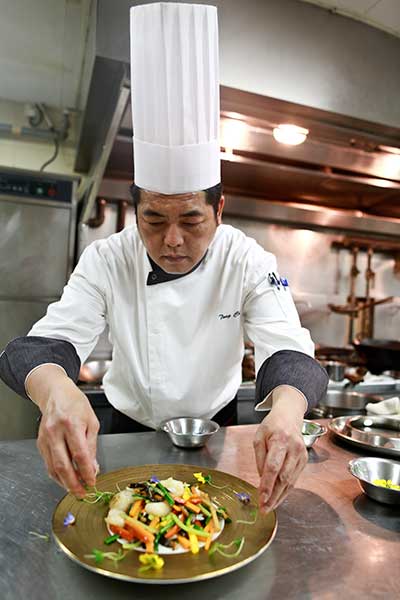 Master chef Tony Choo from Singapore updates dishes at JUN Chinese Restaurant and cooks wild mushrooms with an innovative twist on Cantonese techniques.[Photo by Feng Yongbin/China Daily]
As harvest peaks, earthy flavors are added to Chinese dishes for signature taste, Liu Zhihua reports.
A troop of raincoat-clad foragers are tramping through a forest in deep mountains damp from a recent rain, their eyes searching the ground for any trace of summer's treasured treats-wild mushrooms.
That scene is likely playing out all over Yunnan province, as summer-especially late July and early August-is mushrooms' harvest peak in the largest production area of China. As hot weather blankets the country, market stalls burst with the freshly plucked, earthy delights. Some go to local dinner tables, but plenty find their way to other parts of China and the world.
In Beijing, thousands of miles but a short flight from the kingdom of wild mushrooms, a vast group of restaurants will have fresh wild mushrooms on offer.
At JUN Chinese Restaurant of the Crowne Plaza Beijing Sun Palace (Yunnan Dasha), master chef Tony Choo has his own way to excite diners' palates with those wild delicacies, as he cooks them with an innovative twist on Cantonese techniques.
"Yunnan has a great array of food ingredients that always impresses me whenever I am there," says Choo, a Singapore native. "Locals often cook mushrooms with spices to make a heavy taste. That is good choice in the moist climate there, but in Beijing I think Cantonese cooking will be a better approach."
Choo had nearly 20 years of experience in Cantonese kitchens in Singapore, Hong Kong and Taiwan before he started working in the Beijing hotel restaurant in 2011.
Choo's grandfather came from Fujian province and he feels proud of his Chinese roots. He's fascinated with the abundance of ingredients on the Chinese mainland. He updates about 50 percent of the dishes on the JUN menu every year, and Yunnan is his favorite place to visit for culinary inspiration. He also visits Guangdong province and Fujian occasionally.
His most recent creation: assorted seafood stir-fried with tiger-paw mushrooms and garlic sprouts. His take on a common Cantonese dish is made remarkable by his use of the uncommon fungi, which in dried form can cost more than 4,000 yuan ($645) per kilogram.
The mushrooms have villi on their surface that requires painstaking effort to brush off, and they need to be soaked in water for a day before going into a wok. But their slight sourness and strong mushroom flavor go so well with seafood that the effort is well worth it.