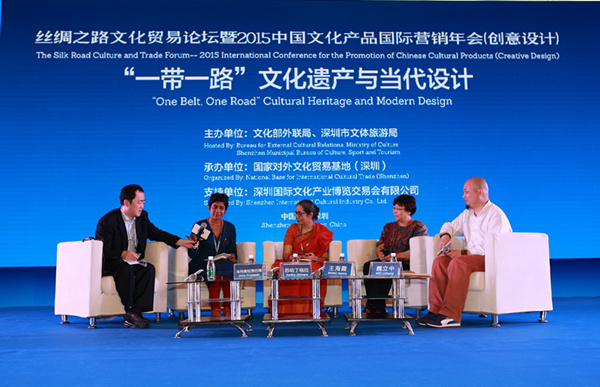 Experts discuss the feature trend of cultural industries at the forum. [Photo provided to chinadaily.com.cn]
The 2015 International Conference for the Promotion of Chinese Cultural Products was held during the 11th China(Shenzhen)International Cultural Industries Fair.Integrating traditional cultural heritage with modern business became the key concern for experts and entrepreneurs at home and abroad.
With the theme " 'One Belt, One Road' Cultural Heritage and Modern Design", experts and masters of intangible cultural heritage from India, Iran and Lithuania and China shared their experience on the development of cultural industry.
"We are always defining traditional culture protection and new development as two contrasting sides. In fact, we can make them develop together and support cultural advancement by business profits," Wang Haixia, director of Folk Arts Researcher of Fine Arts Institute, said.
Wang pointed out that producing creative and practical products with traditional cultural elements is a good way to gain both economic and cultural benefits. Her opinion echoed a speech by Tautvydas Kaltenis, chairman of the Lithuanian Designer's Society.
Kaltenis stressed that we need to make traditional culture reborn and recreated, instead of concealing it in a museum. Only by this way can culture be advanced in society. He advocated combining intangible cultural heritage with modern design and to create new services and industries.