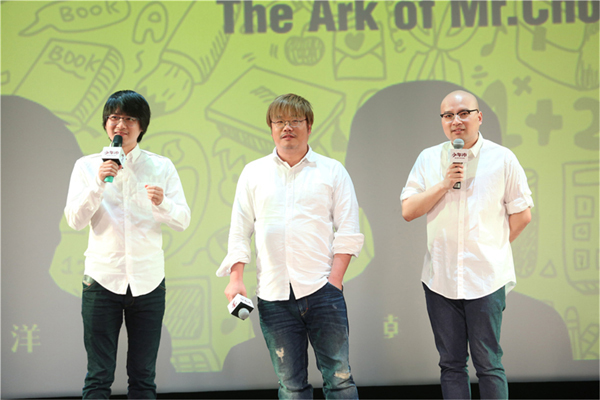 Writer and director Han Han (left) and director Xiao Yang (center) attend a press conference. Photo provided to China Daily
The posters for Ark of Mr. Chow, a movie set for release in mainland theaters on June 19, were unveiled at Tsinghua University earlier this month.
In them, faces of the lead characters played by four Chinese actors and an actress are shown peering from behind framed photos of world figures, such as Isaac Newton, Albert Einstein, Ludwig van Beethoven and Marie Skłodowska Curie.
The movie's storyline revolves around a group of bright teenagers who are recruited into a special college program but find themselves socially awkward among their "normal" peers. It is a satirical take on the Chinese education system that seems to emphasis academic excellence more than the overall development of a student's interest, especially in fields outside of the curriculum.
Xiao Yang, the movie's director, said that the movie, which was inspired by his personal experiences while growing up, shows that while the highly intelligent students are allowed to focus on their studies, the education system offers little support for psychological issues that they encounter.
"The movie will speak about puberty blues of those with similar experiences but who choose to keep silent for years," Xiao said at the media event.
In 1985, when the director was 15, he was selected for a Jiaotong University program for gifted children. He said that while students in the program were very talented, they were equally inept at romance.
Han Han, a best-selling novelist, praised the movie for its subject.
"Youth can be grueling sometimes. The movie narrates a very unique coming of age story," he said.