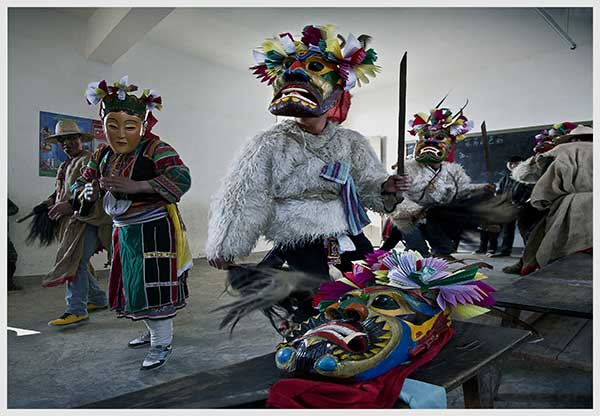 A photograph by Li Jian depicts a mask dance performed by the Baima Tibetans in Gansu province.[Photo provided to China Daily]
A photo show titled Discovering the Beauty of the Silk Road opened on Saturday in Lanzhou. It presents magnificent landscapes, Buddha sculptures and customs of different ethnic groups in northwestern China's Gansu province.
On display are more than 100 photos selected from thousands taken by photographers who have focused their lenses on Gansu province.
The photographs also include pictures take by a group of 50 photographers who spent three months visiting ancient cities in the province.
Some photographers have spent years capturing pictures of the province which sits on the Silk Road. The pictures cover grottoes containing giant Buddha sculptures and murals produced by Buddhist monks centuries ago.
"Buddhist culture was introduced through the Silk Road from India and quickly became the DNA of Chinese culture together with Confucianism. It reached its peak in Gansu province," says Ye Zhou, writer and winner of the Lu Xun literary award.
What Ye says is also what the photographers' pictures show.
The pictures show the Maiji-shan grottoes with clay Buddha sculptures built about 1,600 years ago in Tianshui, the Tiantishan grottoes' giant stone sculptures, some as high as 28 meters, done by monks thousands of years ago in Wuwei and the Mogao grottoes in Dunhuang.
The five ancient cities-Tianshui, Wuwei, Zhangye, Jiayuguan and Dunhuang, which stand in a line on the Silk Road in Gansu province-generated blood for China's Buddhist culture, adds Ye.
One of the photographers, Li Jian, spent four years taking photos of Gansu province, a place, he says, he has yet to discover fully.
A series of photos taken by Li record a mask dance performed by a branch of the Tibetan people living in a mountainous area in Gansu.
The group, called the Baima Tibetan, includes a few thousand people, who believe in nature and perform the ritual mask dance after their New Year to drive out evil spirits and gain blessings from nature.
"There are many customs like the Baima Tibetan's mask dance that have remained unknown. I want to protect them and make them known through photos," says Li.
He spent around two weeks in the village and took about 1,000 photos to record the mask dance.
The photo show at Gansu Provincial Museum is part of a project to protect China's cultural heritage through pictures initiated by Canon China.
Since 2014, the project has also seen photographers travel to Shaanxi and Henan provinces to record intangible heritage and donate their photos and videos to cultural institutions.
Lu Jie, the communications director of Canon China, says many customs and traditions are often lost with passing of people who used to keep them. Photos and videos are a way to prevent them from disappearing.
Speaking about the trip to the ancient cities in Gansu province, she says each city has its own customs and culture.
Photos are a reminder of the city's culture even it is lost one day. The photo show is one way to increase public awareness of cultural heritage protection, Lu says.
If you go
9 am-5 pm, through Nov 15. Gansu Provincial Museum, 3 Xijin Xilu, Qilihe district, Lanzhou. 0931-2339133