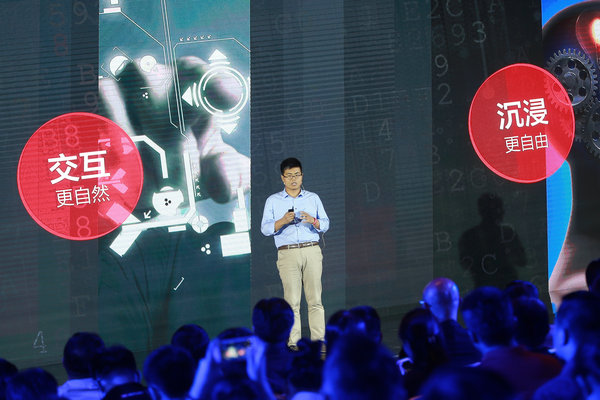 Ma Yi, general manager of Sohu Video's product technology center, gives a speech about VR platform, Beijing, Aug 25, 2016. [Photo provided to chinadaily.com.cn]
Sohu Video announced plans to launch China's first VR (virtual reality) platform in Beijing, on Aug 25.
Sohu Video, which aims to be a pioneer of VR era, wants to combine the VR technology and PGC (professionally-generated content) and establishe a VR platform that covers both the production and distribution.
VR video makers will get the financial and technology support from the platform. And Sohu Video will help in video broadcasting and promotion as well.
In June, Sohu Video launched its VR panoramic channel, which could be broadcast on PC, mobile phone and TV.
Currently, the channel has more than 50 VR video producers, and over 1,000 VR videos with 3,000,000 views per month. The content covers travel, humanities, entertainment and miniseries.
Ma Yi, general manager of Sohu Video's product technology center, said their VR platform will focus on promoting more VR video makers and help the VR market develop smoothly.
"Our platform has the technology to broadcast VR panoramic videos and will support VR creators to make more high quality productions," said Zheng Tao, general director of Sohu Video's product technology center. Sohu Video held a VR panoramic video contest to encourage more creators to engage in VR production.
Wang Quanfeng, general manger of Sohu Video's family entertainment department, said the cooperation between Sohu Video and the industrial chain will focus on the distribution and also provide hardware, such as VR launchers and VR spectacles.