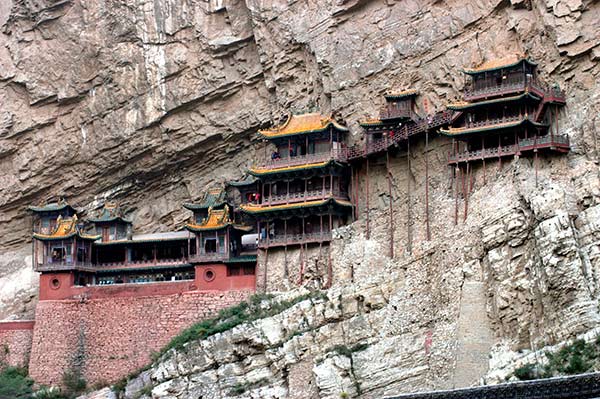 Hanging Temple in Shanxi province [Photo by Zhao Liang/Asianewsphoto]
North China's Shanxi province is revamping an ancient temple known for its perilous perch on a sheer cliff to protect it from falling rocks.
The 1,500-year-old Hanging Temple on Hengshan Mountain was closed to tourists after its roof was damaged by a falling rock in October, its administration said.
Workers are now reinforcing a wall designed to protect it against falling rocks from above, while building a second paralleled wall and a safety net to ensure "double protection," said Qi Yanming, who heads the revamp project.
The project has received 3 million yuan ($472,000) in funds from the State Administration of Cultural Heritage, Qi said.
It is still unknown when the temple will reopen.
The temple consists of 40 rooms connected by a series of corridors, bridges and walkways and houses more than 80 bronze, iron and clay statues.