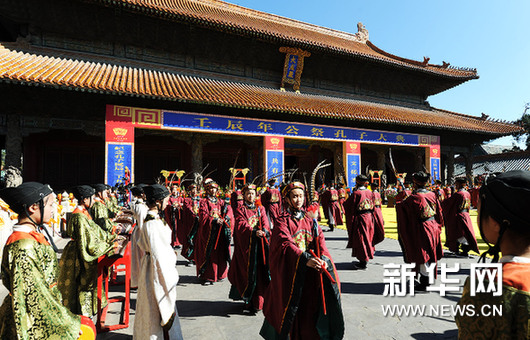 File photo shows a sacrificial ceremony was held in the Temple of Confucius in Qufu, Shangdong Province, Sept 28, 2012. [Photo/Xinhua]
Temple of Confucius in Qufu, a World Heritage site honoring the ancient Chinese philosopher, is undergoing a full-scale renovation, the first in a century.
The Qufu Confucius Ancient Building Engineering Management Office launched restoration work on Saturday. The face-lift is expected to take three to five years with government funding of 300 million yuan (48 million US dollars).
Qufu in East China's Shandong Province is known as the birthplace of the sage, who lived from 551 to 479 BC.
Confucius founded the philosophical system that has dominated Chinese social and political life for most of history after him. His temple and family mansion have been preserved through feudal dynasties, including more than 1,300 ancient buildings, some 5,000 stone inscriptions and about 100,000 relics in the city.
In 1994, the Temple of Confucius, Cemetery of Confucius and Kong family mansion in Qufu were put on the World Heritage List of the UNESCO.
According to the Qufu Bureau of Relics, the complex contains 140,000 square meters of ancient painted buildings.
Kong Xiangmin, head of the engineering office, said it has cooperated with the Chinese Academy of Cultural Heritage in testing and monitoring the paint to determine its date.
The Confucius ancient architecture cluster, along with Beijing's Forbidden City and the Imperial Summer Resort in Chengde, are three of China's best preserved ancient building complexes. Around 10 million people visit Qufu annually.