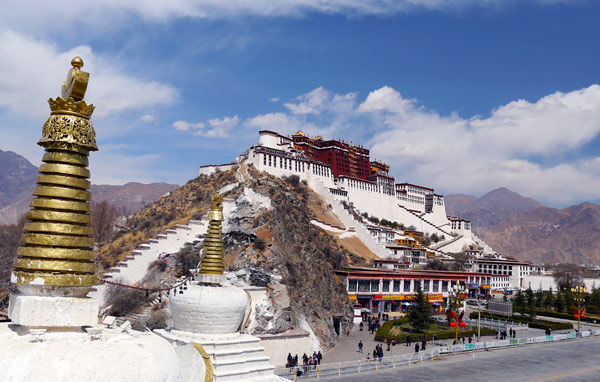 The Potala Palace, a UNESCO World Heritage site that has stood in Lhasa for 1,300 years, has been given two renovations with central government investment. PHOTOS BY ZHU XINGXIN/ CHINA DAILY
Paintings, cultural relics, frescos, scriptures and buildings at a world heritage site have been safeguarded for future generations thanks to a long-term restoration program.
The central government and the authorities in the Tibet autonomous region have made great efforts to renovate and preserve the Potala Palace, the site's managers said on Thursday.
The palace is one of only three UNESCO World Heritage sites in the region — the others are the Jokhang Temple and the Norbulingka Park.
"The governments invested heavily in the renovation of the site," said Ding Changzheng, the Party secretary at the Potala Palace Management Office.
"More than 204 million yuan ($34 million) was spent during the latest 10-year-long renovation project."
A five-year program costing 53 million yuan was launched at the palace in 1989.
"Famous Tibetan thangka painting artists were invited to contribute to the renovation of the frescos," said Ding.