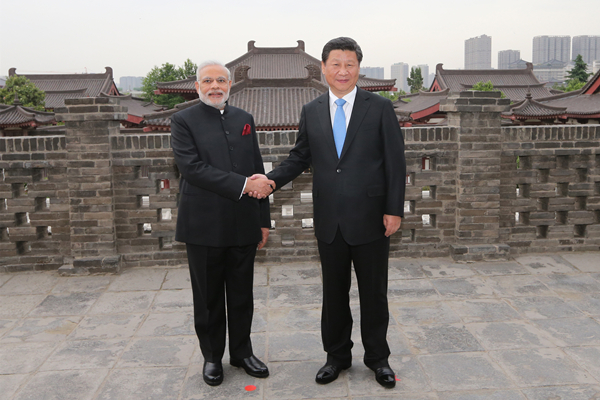 President Xi Jinping shakes hands with Indian Prime Minister Narendra Modi during their visit to Daci'en Temple in Xi'an, Shaanxi province, on Thursday. [Photo/Xinhua]
A joint yoga-tai chi demonstration will take place at the Temple of Heaven in Beijing on May 15 to honor Prime Minister Narendra Modi's maiden visit as head of government to China. Around 200 people from the 'Yogi Yoga' center will perform yoga at the venue, alongside 200 people performing Tai Chi.
The Yogi Yoga Centre was started in 2003 by Mohan Bhandari and has produced an estimated 10,000 yoga teachers since 2007. In an interview by Asian News International, Bhandari said that yoga is very popular in China. "When young people join a particular field, it starts to spread," he said.
Prime Minister Narendra Modi practiced yoga daily, and appointed a yoga minister in a major revamp of his government after coming to power in a bid to promote the ancient practice.
Meanwhile, President Xi Jinping kept on popularizing Chinese culture during his overseas visits. On his trip to India in 2014, he stressed that as the quintessence of oriental cultural, there were striking resemblances between tai chi from China and yoga from India.
According to The Daily Telegraph researchers from France have suggested that tai chi and yoga, both promoting balance and muscle strength, could help lower the risk of injuries in falls by a third, especially in elderly people.