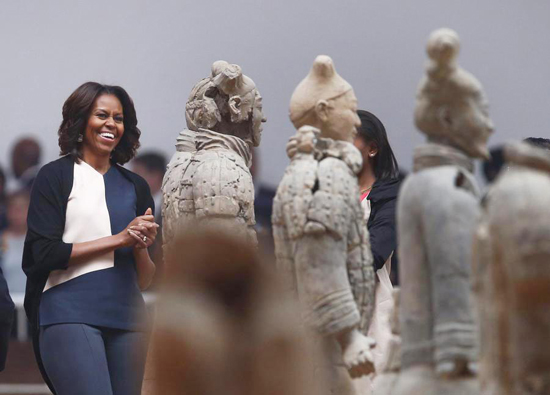 Michelle Obama, the First Lady of the United States visited the terracotta warriors in Xi'an, Shaanxi province on her first visit to China in March, 2014. [Photo/Agencies]
In 1987, the mausoleum of Qin Shi Huang was listed as a UNESCO World Heritage. As a part of the mausoleum, the terracotta army comprising around 1,800 different life-size statues was constructed to guard the Emperor Qin Shi Huang in his afterlife.
Since 2000, some of the terracotta warriors have been selected and sent abroad for cultural exchanges and communications. Exhibitions have been held in the British Museum, the Houston Museum of Natural Science and other prestigious art institutions in more than 80 countries.
Authorities from the Shaanxi Cultural Relics Bureau expressed their appreciation to the staff from both countries who contributed to the logistics of the tour, and also said that the exhibition would better promote Chinese traditional culture on the world stage and would connect the two countries closely through its cultural appeal.