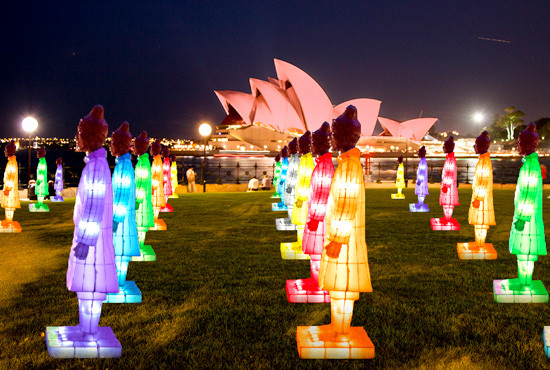 [Photo/people.com.cn]
To celebrate Chinese New Year, an army of illuminated Terracotta Warriors will light up Sydney Harbor from Feb 19, Lunar New Year's Day.
Shining in red, green, yellow and blue and fashioned out of fabric and wire, the Lanterns of the Terracotta Warriors consists of 90 warriors standing 2.1m tall and two warrior horses.
The artwork was created for the Beijing Olympic Games in 2008 by Chinese artist Xia Nan and other eminent artists. It was inspired by the famous Terracotta Army of Emperor Qinshihuang and China's traditional colored lantern craftsmanship, which is a national cultural inheritance.
As a representation of inheritance and the future, images of women and children were added to the artwork, which is an embodiment of good wishes for a better future.