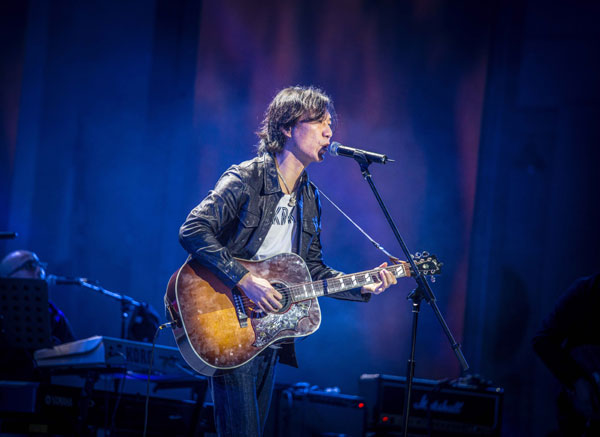 Independent Chinese singer-songwriter Ma Tiao has become one of the most popular acts at outdoor music festivals and live-house venues in Beijing. [Photo/China Daily]
He had already carved out a niche for himself in the Chinese music scene with his fusion of Xinjiang folk songs and rock'n'roll, but a stint on a popular TV show has brought Ma Tiao to a new audience. Chen Nan reports.
Best known for blending rock'n'roll with ethnic Xinjiang music, singer-songwriter Ma Tiao has been performing in Beijing pubs since 1994 and has become one of the most popular acts at outdoor music festivals and in live-house venues across the country.
In December 2014, the 43-year-old surprised himself by agreeing to take part in the second season of Sing My Song, a Chinese talent show, which aired in January on the arts and entertainment channel, CCTV-3. The show aims to showcase the best original singer-songwriters in the country.
Ma was a hit. His performance of his song Sha Gua, or Fool, was full of sentimentality and won the hearts of the four judges and the audience. One of the judges, singer-songwriter Liu Huan, said he loved Ma's poetic lyrics and, "when you sang 'fly', I felt like I was flying with you".
"I have never thought about performing at such a mainstream reality show," says Ma, who received a phone call from the production team in November 2014. "I have already been part of the scene for 20 years, I have fans who understand my music and I am not short of money. It felt like I had nothing to gain from the show at all."
Lu Zhongqiang, who founded record company Thirteenth Month and worked with Ma on his three studio albums, encouraged him to take the opportunity.
"Just look at his live show, and you will see the charisma of his music," says Lu.
What made Ma change his mind was the birth of his son in December 2014.