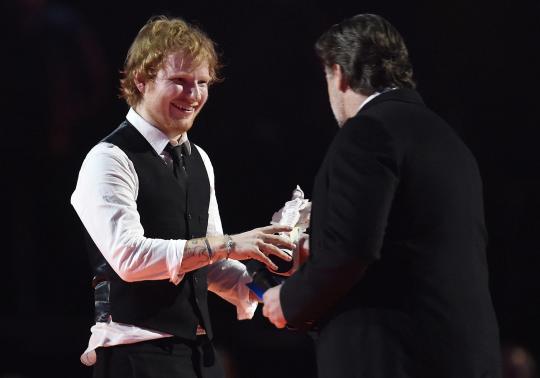 Ed Sheeran celebrates with Russell Crowe after receiving the British Album of the Year award at the BRIT music awards at the O2 Arena in Greenwich, London, February 25, 2015. [Photo/Agencies]
The top British music awards went to young men on Wednesday as Ed Sheeran and Sam Smith bagged the most important trophies in a star-studded Brit Awards show in London.
But the grand dame of pop music, Madonna, who performed at the ceremony for the first time in two decades, almost stole the show despite tripping off the stage in the middle of her new single "Living for Love".
English singer-songwriter Ed Sheeran was the biggest winner of the night, walking away with two of the four Brit Awards he was nominated for.
He was named the best British solo artist and also took home the coveted best album prize for his second studio album, "X".
The 24-year-old looked genuinely surprised as he mounted the stage to collect the trophy, a pale pink statuette designed by British artist Tracey Emin.
"I didn't expect it... It's been a very good year for British music", he said.