Season of the lambs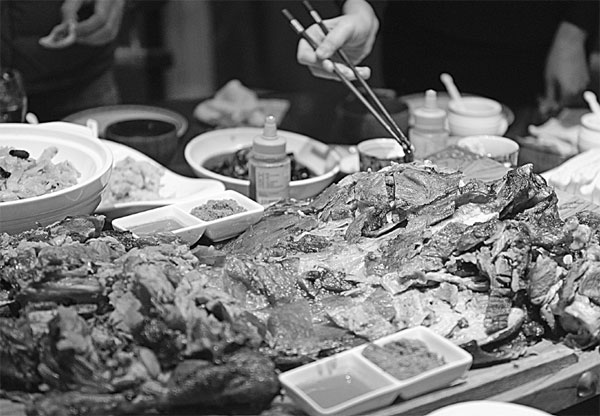 A whole lamb makes an inviting presentation and an irresistable aroma for diners at 99 Yurts. No one will be shy about taking home leftovers. Photos by Bruno Maestrini / China Daily
Year of the Ram? Year of the Sheep? For meat-eaters, the real question is where to find the best of this spring special, says Mike Peters.
Ask Beijing residents about their favorite place to eat lamb, and you'll stir a lively debate.
My colleague Ye Jun, a longtime food writer for China Daily, swears by Xixia Palace at the Beijing Ningxia Hotel. Two French friends, a couple that loves to party, always take out-of-town guests to Afunti, a hopping Xinjiang Uygur joint with good lamb and a floor show on the side: happy-feet music, belly dancers, fire-juggling martial artists and more.
I'm a longtime fan of Crescent Moon, another Xinjiang eatery in a quiet hutong that serves a leg of lamb that wins lots of awards for being savory, lean and tender.
But the winner in my book is 99 Yurts. A half-hour north of Beijing, it's an outpost of the Inner Mongolia autonomous region, where wide-open grasslands and a herding tradition that goes back centuries combine to produce some of the tastiest lamb in the world. Far from big cities and mechanized agriculture, the region has had little use for pesticides and other chemicals - and local farmers have been quick to showcase their lamb, yogurt and vegetables as organic and natural.
Besides the succulent lamb, the nomadic tent shelters known as yurts give the restaurant plenty of ethnic flavor. (There is a city-style dining room, but why miss the fun of going native? ) Small parties can share a yurt with others, while groups of 10 or more can have their own. The biggest yurts will surprisingly accommodate about 100 - great for a wedding or company party.
Make a reservation and you'll be assigned a yurt number, easy to find once you arrive at the fairground-like site. Before settling into your own tent, you can stroll around the color canvas shelters and also peer into the open kitchen.
Behind a wall of glass, Mongolian chefs are preparing racks of lamb ribs, succulent kebabs, boiled goat and - the restaurant's piece de resistance: roasted whole lambs over great banks of charcoal, dozens and dozens of them.