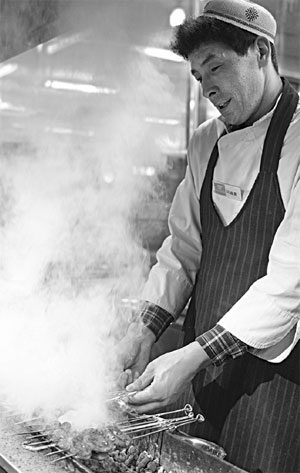 Grill chets put on a show for dinner guests.
In the past, we've found that half a lamb, served with lots of side dishes, can feed about a dozen people.
On a recent visit, however, we went all the way, ordering the whole carcass with vision of leftovers dancing in our heads.
The carnival atmosphere created by the colorfully decorated yurts is enhanced by the serving staff, dressed in luminous embroidered costumes and gracefully toting jugs of yak butter tea, trays of pomegranate juice or wooden planks loaded with juicy morsels of lamb.
The tent adds to the drama, as the flaps open to admit bearers of each dish, one by one, that soon cover our round table. We start with the milk tea, which may be an acquired taste for first-timers. It's mild and rich, and our server promises us it will aid digestion.
He's quite worried about our digestion - clearly thinking the foreigners at the table don't know much about proper eating with our demands for carbonated sodas and beer. In the end, we persuade him to bring both the recommended pomegranate juice - delicious! - and a few beverages and beers.
We start our meal with an appetizer platter of dairy products: goat cheese in several forms and a tart yogurt laced with Xinjiang raisins. Some of us drizzle honey into the mix, but others savor the rich, creamy tartness reminiscent of Middle Eastern yogurt.