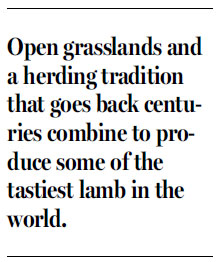 And we order an armada of side dishes to go with the pre-ordered lamb: a pan of fried mushrooms, a bowl of a mild green vegetable from the Gobi sands known as "desert onions", some pickled cabbage with chili, garlic, carrots and Chinese chives (jiu cai), and a traditional Mongolian soup of pickled cabbage and glass noodles. Most dishes are savory and not too spicy; there condiments on the side for those seeking more zest. A basket of breads in different sizes and shapes comes with garlic, date paste and other goodies that we eagerly spread on top.
Then comes the moment we'd been waiting for: A broad wooden board covered with slabs of roast lamb. There are savory dry and saucy dips alongside, redolent with cumin and chili and slices of garlic.
Once we get through the easy-to-eat slices of lamb shoulder and chop, our waiter passes around plastic gloves and pulls on a pair himself to break apart the ribs and back that remain on the platter.
It's time to let out our inner Genghis Khan, and grab these meaty bones with our hands.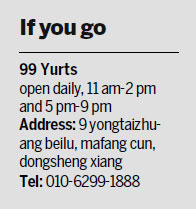 As we let our dinner settle, things get musical. For an extra 500 yuan ($81), we get a private performance in our yurt that includes Mongolian singing - including hoomii, the famous throat-singing that allows a performer to produce two distinct notes at the same time.
Colorfully costumed dancers have us on our feet in no time, and afterward one of the Chinese in our group, a native of Hohhot, stands and serenades us with two traditional melodies of Mongolian poetry.
It's a lovely surprise finish to an evening that was meaty with culture as well as with lamb.