The meat of the matter: good health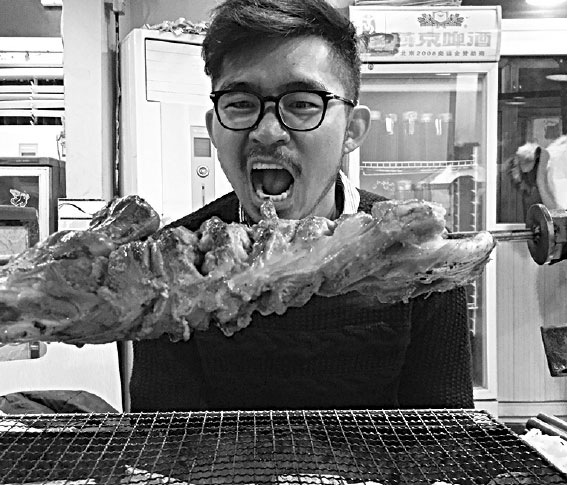 Spring's arrival means fans can once again enjoy a leg of lamb outdoors at hutong cafes. Provided to China Daily
Lamb is one of the most popular meats around the world, enjoyed for its versatility and health benefits. It's central to the Mediterranean diet, often credited for the long life and vitality of the people in that region and their low incidence of cardiovascular disease. A 3-ounce serving of cooked lamb provides about 175 calories, with total fat content about 8 grams.
The meat comes from young sheep less than 1 year old, and the tender red meat has a delicious taste. Grass-fed lamb is quite lean and generally chemical-free.
While lamb contains saturated fat, this represents only 35 percent of the fat content while the rest is healthier types of fat, according to the website Fitday.com.
One of the richest sources of easily digestible protein, lamb is rich in the amino acids that help produce energy from fatty acids. Lamb also contains high levels of vitamin B12, which boosts the body's metabolism and the production of red blood cells.
Lamb is also a good source of vitamins A, B3 and B6, as well as iron, zinc, phosphorous and calcium. It also boasts trace elements of selenium, manganese and copper.
In Australia, where lamb is eaten regularly by adults and children, recent studies have shown that this meat ranks among the top omega-3 foods in the daily diet. In addition, the ratio of omega-3 to omega-6 fats is far better in grass-fed lamb than in the average diet in the US, where much less lamb is consumed than elsewhere in the world.
A higher ratio of omega-3 fats has been shown to decrease risk of cardiovascular disease in many clinical studies.
Around the world, lamb is usually available in five major cuts: shoulder, rack, shank/breast, loin and leg.
"Rack of lamb" refers to a rib cut, usually nine ribs that can be split into rib roasts. Lamb "chops" can come from several cuts, including the rib, loin, sirloin (leg) and "blade" (shoulder).
Many butchers also sell lamb that is already ground for use in burgers, meat loaf, sauces and other dishes.