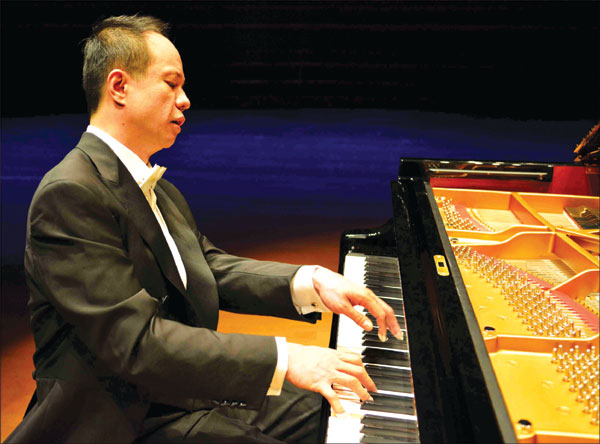 Rueibin Chen has entranced listeners with his musical talent since he was 6. [Photo provided to China Daily]
Renowned concert pianist lives his passion on the global stage.
The internationally acclaimed pianist Rueibin Chen has always believed in the overarching importance of music.
"Music is my life, my passion, my destiny," he said in Hong Kong recently before catching a plane to Los Angeles for his next performance.
Chen is a much sought-after performer and composer. He has won numerous awards and accolades, proof of his love for the piano, which perhaps is matched only by his passion for charity.
Well dressed, but not extravagantly, Chen wears a constant smile on his face.
Born in Tainan City, in southern Taiwan, Chen was introduced to classical music by his father, an elementary school teacher who taught and loved music. "My whole family is musical," Chen says. "There was a piano at my home before I was even born."
Chen's father bought the 120-year-old vintage piano with an ivory keyboard third-hand, which became a sentimental family heirloom. "They stopped making that kind of piano a long time ago," Chen says. "It means so much to me that I couldn't give it up to any museum."
He started taking piano lessons at the age of 5 from his father and uncle, who had won a national piano championship in Taiwan. Chen was expected to practice four hours every day and the lessons would be recorded for his strict father to review after dinner.
Learning to play the piano was more difficult when Chen, now 47, was a child. It was hard to buy records then, so he would go to the city with his father on a motorcycle to find vinyl records of Beethoven compositions.